September 03, 2021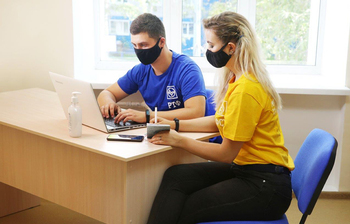 The new academic year at TUSUR will begin in a hybrid form, with a combination of in-person and distance classes.
From August 30 to September 5, first-year students will be invited to participate in the Welcome To TUSUR activities, some of which will be held online. Classes will start on September 6 and will be held in a hybrid form. A special web resource freshman.tusur.ru will guide new students as they adapt to their new life at the university, offering instructions on a range of subjects, from dormitory accommodation to purchase of a medical policy.
Second and third-year students will start their classes online in September 1, and will switch to the hybrid form from September 4 on. Classes for final-year students will begin on September 1, in the hybrid form as well.
In order to ensure health of arriving students, dormitory accommodations will be organized in accordance with a schedule. First-year and final-year students are invited to check in from August 20 to September. The rest of students are invited to arrive from September 20 to October 3.
Students arriving from abroad will be checked into the TUSUR Quarantine Center for a three-day period before they are cleared for in-person classes based on the result of their PCR test.
PE classes and sports clubs will move their activities to outdoors for as long as the weather allows it.
Mask wearing and social distancing remain mandatory in all buildings of the university.