Employment
International Faculty
TUSUR University welcomes applications for research positions at the Full-time Faculty/Postdoctoral/Visiting Professorship levels from outstanding scientists and researchers, recognized in their chosen research field, as well as interns with a research potential.
Applications are accepted in research areas that are linked to TUSUR University strategic research concentrations:
Nanotechnology
Radiotechnical and telecommunication systems
Intelligent power electronics
Intelligent information systems and control systems, information security
Innovations
Who Can Apply:

Professor Ph.D or equivalent with a successful track record of research and publications and a minimum of 5 years of teaching/research/industrial experience of which at least 3 years should be at the level of Assistant /Associate Professor

Associate Professor Associate Professor: Ph.D or equivalent with a successful track record of research and publications and a minimum of 3 years of teaching/research/industrial experience of which at least 2 years should be at the level of Assistant / Associate Professor

Assistant Professor Ph.D or equivalent with a brilliant academic background. Experience, while desirable, is not essential. Those about to complete their doctorate may also apply. Such candidates may be considered for visiting appointment till such time they formally complete the doctoral program

Intern Last year students with research experience from engineering universities

An outstanding manager or a professional in his field working in industry and with established reputation and who has made significant contribution to knowledge, but not having a Ph.D degree, could also be considered for appointment
The application can be done by contacting either the relevant department the candidate wishes to join (using the contact details specified at the official page of such department), or the Division of International Cooperation at kga@tusur.ru or at +7 (3822) 510-804.
Some International Statistics
211-220

Best Universities
QS BRICS
231-240

Best Universities
QS EECA 2016
78

research and education partner institutions worldwide
15,2%

international students
Interested? To apply, please, fill this application form below or contact the TUSUR Division of International Cooperation at kga@tusur.ru.
No nationality restrictions are imposed by TUSUR University.
Post Doctoral Programs
TUSUR University has defined the following criteria for the Post Doctoral Fellowship awards. In the application each applicant should indicate how he/she fulfill each of the expected criteria specified in the Table. The Employment Committee will review the applicant's track-record and publication record and will consider the given references.
Privileged are the candidates having experience of working in recognized universities, research institutes or centers or R&D companies. Senior academics with an established reputation and track-record in research publications may be considered for the position of a Visiting Professor upon presentation of their most substantive pieces of research work to the TUSUR University Employment Committee.
All applicants who are not currently employed in English-speaking or Russian-speaking universities or research centers are required to produce evidence of proficiency in the English language. TUSUR University will accept a score of 6.5 in the British Council IELTS test or a TOEFL score of 92 (internet based), or its equivalent. For applicants with a significant record of publications in English but without evidence of certification, may be asked to undergo an evaluation of their oral ability in English during the interview process.
Research Excellence
Delivery of outstanding research and an indication of how the research contributes to the mission and vision of TUSUR University with regard to future scientific trends and requirements for technological change. Ability to work in an international laboratory or research group.
Leadership
Clear vision and understanding of the application and goals for the proposed research. Ability to lead and conduct independent research activities.
Strategic Vision
Cross-disciplinary approach to problem solving; aspiration to work across discipline boundaries and/or to conduct high risk research; developed network of research contacts.
Period of the fellowship
up to 3 years
Efficiency indicators expected from the Winners during their fellowship at TUSUR
Number of papers in referred journals co-authored or accepted for publication per year
at least 3
Number of conferences as a speaker per year
at least 1
Supervision of TUSUR students
2 MSc students
Internships
Research Internships for Incoming Interns
Any department in TUSUR University offers an internship to international students in accordance with its research areas. The practical experience obtained in the course of internships must be compatible with students' degree programs at their home universities. Internships are open to current students only, and all applicants must be registered as students for the duration of the internship.
The duration of the internships can vary from one week to nine months, depending on your goals and availability. Adding an internship to your study or research experience at TUSUR will open new perspectives and tap into an international network in your field.
If you are interested in an internship at TUSUR University, please send your CV and a letter of motivation to kga@tusur.ru.
Research Internships for TUSUR Students
Every year the best master and postgraduate students of TUSUR are selected to undergo summer research training at Industrial Technology Research Institute (ITRI), Taiwan.
In the course of this two-month internship master and postgraduate students acquire international professional experience at the best research laboratories, improve their knowledge of English, establish business contacts and make friends with foreign scientists and undergraduate and postgraduate students.
Research internships enable master and postgraduate students of TUSUR to become familiar with international research culture and world-class standards of scientific research.
TUSUR and ITRI have created a common Web site to provide support to research internships and intensify collaboration.
For the exhaustive and up-to-date list of the Internship opportunities abroad please contact the TUSUR Division of International Cooperation at kga@tusur.ru.
Calls & Proposals
The search for a new faculty member is both routine and unique. While faculty recruitment is often addressed only when a position becomes available, TUSUR welcomes proactive approach in prospective faculty members and encourages them to express their interest in taking a position at the University.
Nevertheless, when applying for the job position, fellowship or internship one should keep in mind that the negotiations and invitation to Russian Federation could take several months, that is why it is strongly recommended to reserve at least 3-4 months to prepare the visit.
Specific calls:
/no specific calls in progress/
Coming to TUSUR
Tomsk is the capital of Tomsk Oblast, which is located in southern Siberian Russia, almost the geographical center of the country. Major international airlines have regular flights to different Moscow airports. It normally takes approximately four hours to reach Tomsk (Bogashevo airport) by plane from Moscow (Domodedovo, Sheremetyevo or Vnukovo airports), the Russian capital, or two and a half days by train with the Trans-Siberian Railroad.
Novosibirsk is the closest to Tomsk international airport with regular airline connections to a number of countries. From Novosibirsk, it will take approximately 4 hours by car or bus.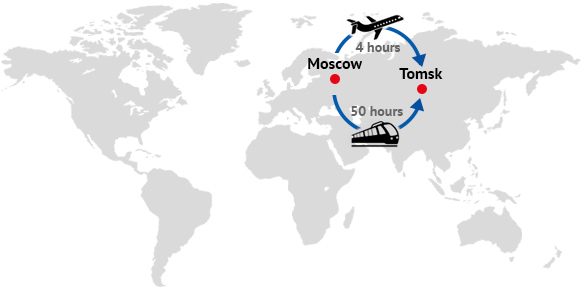 Experience Siberia
The city of Tomsk was founded in 1604. It is situated in eastern part of West Siberia on the bank of the Tom River. The population of the city is about 500 thousand people. Tomsk is the heart of Siberian science, education and innovation. It hosts 9 universities, 15 research institutes, and the Special Economic Zone.

UTC + 7
Time Zone

1/2 million
Population (2021 est.)

300 km2
Area

busses/trolleys/trams, taxis
Public transport
We are deeply convinced that Tomsk will leave a very pleasant impression! You will have a great time here regardless of the season and will never forget the unique spirit of this city, the spirit of youth and energy combined with wisdom and charm of old streets.
It is very cold in winter and quite warm in summer in Tomsk as well as in Siberia at large. Average temperature in January is about 19°C below zero, while average temperature in July is about 18°C above zero. Cold days prevail over warm days in the course of the year. Winters are snowy and summers can be rather rainy. Therefore, if you are planning to visit Tomsk, check the weather forecast at http://weather.tomsk.net/ and don't forget to take warm clothes and shoes with you.
Tomsk is truly a city of students. There are nine universities here, and every fifth person is a student. Most of them came to study in Tomsk from other cities and countries. That is why when you first arrive in Tomsk you cannot help noticing how many young people are around you. Walking along the Lenina avenue you pass by three universities in a row, and each of them has its own face, its history and its distinct character.
The old city is revived by voices of young people, by their laughter and music. Students have various favorite places in Tomsk, such as bike clubs, dance clubs, coffee houses, sports grounds, and art theatres. Indeed, this colorful diversity is the essence of student Tomsk.
You can find many interesting and picturesque places here. This city is rich in monuments of wooden and stone architecture of the XVIII–XX centuries. Tomsk wooden "laces" are famous far beyond the Russian borders.
There are many old orthodox churches and chapels in Tomsk, as well as a Polish catholic church, two mosques, a synagogue and an evangelic-lutheran church.
There are 17 museums in Tomsk, including the Museum of Tomsk History, the Museum of Slavonic Mythology, and the Museum of Wooden Architecture. Moreover, every university has its own museums, open for public, such as museum of zoology, paleontology, mineralogy etc., displaying collections of universities. There is also a planetarium in Tomsk where one can make interesting observations from an observation site.
There are three drama theatres, a theater for children and teenagers, a puppet theatre "Skomorokh" (it means "a traveling minstrel, a clown") and a theater of living puppets "2Ku". There is also an acting workshop "Oskolki" ("shatters") and a student theatre "Kovcheg" ("ark"). In addition, there is a large philharmonic hall and a small concert hall where organ concerts take place. Tomsk is also proud of its symphony orchestra and the university choir.

Here one can find cafes, restaurants and clubs for any taste: there are more than 100 cafes, about 40 restaurants, and 20 coffee houses offering diverse menu.
Students often go to night clubs (there are about 20 of them in Tomsk), where one can hear music of different styles and genres. Theme parties take place there and famous DJs come from various countries.One can watch all the latest movies in the three cinemas of Tomsk.
There are various options for relaxation and entertainment satisfying all tastes: paintball, bowling, billiard, water pools, saunas etc.

The largest Russian chains of bookstores have their branches in Tomsk. Besides, there are small local bookstores which are really unique. Do not forget to visit a second-hand book-shop, where you will find many rare and extraordinary things and books!

Some organizations, cafes and hotels in Tomsk offer free of charge Wi-Fi access: http://wifi4free.ru/tomsk/hotspots/. Besides, a free Wi-Fi zone covers the main building of TUSUR as well as adjacent Novosobornaya Square, where students like to spend their free time in the park close to the fountain. The Business Incubator of TUSUR also provides free Wi-Fi access. There are many Internet cafes and cybercafés very popular among students.

The city-dwellers enjoy escaping the heat of summer in large and small parks of Tomsk. One can have a great time on the quay of the Tom River, where one can go roller-skating, enjoy fresh air, admire the view or feed pigeons.
You can see photos of Tomsk taken for its 400th anniversary at: http://album.tomsk.ru/