June 06, 2008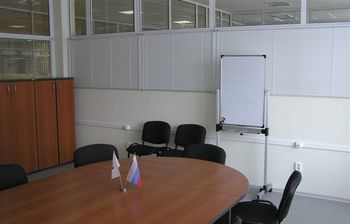 Center of Corporate Development of TUSUR organizes meeting on preparation for round table «Corporate culture and university future» in Student business incubator.
Organization division of TUSUR Innovation Institute Center of Corporate Development within the bounds of project realization «Corporate culture of TUSUR» organizes a number of events, aimed at revelation of existing ideas about TUSUR present and future and differences of these ideas. Development of common future image is one of main stages of the project «Corporate culture of TUSUR». Taking of existing opinions into account is supposed to be important for corporate culture, which is one of the necessary means of strategy goal achievements of the university.
Center has already realized group of seminars «Technologies of work with present». At the seminars participants declared their positions and interests at the university, and also tried to determine future time interval, that they could obviously imagine. After the seminars participants composed a list of themes, discussion of which is important according to the university future.
Center plans to conduct series of underlying interviews with representatives of different university interests. Interviews will be aimed at revelation of ideas about the role and prospects of TUSUR in regions, country and world, at fixation of existing problems and differences.
It is also planned to organize some round tables, aimed at revelation of «nonmaterial reality»: recognition of key external and internal problems and risks; determination, which of existing administrative mechanisms work effectively, what kinds of modernization they need and what are absent. First of these round tables will be «Corporate culture and university future».
Meeting on preparation for round table will be on the 9th of June at 5 p.m. in office 106 of Student business incubator (147, Krasnoarmeyskaya street). At the meeting are invited all interested in university development, ready to put thoughts, ideas and projects.
It will be discussed and then be submitted at round table the suggestions on following themes (list has been composed after previous work):
Commercialization as main process at the university: what are advantages and disadvantages? What can be commercialized and what can not be? How can completely be launched this process?
Group project education: existing successes and failures, contradictions, conflicts and their solution.
How can study process be changed? How can opportunity of individual educational and professional trajectories be provided? What new subjects (modules, courses) should be introduced?
How can relationships «lecturer-student» (for a example, «designer-designer», «customer- developer» and others) change and what changes should be supported.
List of themes is open to suggestions.
Source of news: Center of Corporate Development of TUSUR