June 23, 2017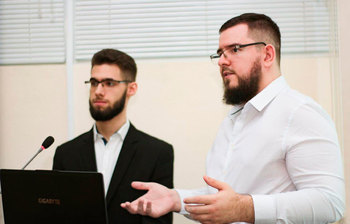 A medical 3D visualization project developed at TUSUR University will offer a new quality of local hyperthermia treatment in cancer patients.
Phoenix-2 is one of the developments of TUSUR University, a new local hyperthermia complex that uses non-destructive direct current to treat deep-set tumors. Project leader Oleg Pakhmurin says that today, in order to ensure a higher precision of treatment, physicians have to utilize expensive ultrasound equipment. That is why TUSUR develops a 3D visualization system as a companion to the Phoenix-2 unit to serve that purpose.
In 2016 the project team included Master students from Epitech (European Institute of Information Technology, France) who come to TUSUR under the bilateral student exchange agreement between the two universities. They create a 3D model of a patient based on MRI scans that will be used to ensure precise application of surface or needle heaters to the right depth and at the right angle, potentially allowing the unit to work in automatic mode and making the treatment minimally invasive.
The Epitech students say that the project was a good opportunity for them to try their hand at something more substantial than mobile app development, and that hopefully, their contribution will help create a technology that will be used to treat cancer around the world.
Apart from international interns, the project team also includes students of TUSUR University.