April 18, 2018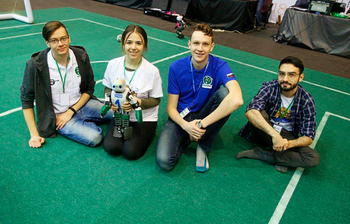 Teams of TUSUR University have finished second at the robot football event and took all medal places at the software engineering event at the RoboCup Russia Open 2018.
The teams /dev/null, Mr_robot and Dark Horse have ranked first, second and third in the RoboCupJunior Rescue Simulation (CoSpace) league – a relatively new addition in the RoboCup lineup of events where participants are expected to develop multi-purpose software for virtual and physical robots.
Moreover, a representative team of TUSUR University and Bauman Moscow State Technical University became a silver medalist in the RoboCup Humanoid KidSize Soccer league.
Held in Tomsk on April 13 – 15, the RoboCup Russia Open 2018 gathered some 120 teams from Tomsk, Novosibirsk and Krasnoyarsk regions, Nizhny Novgorod, Moscow, Korolyov, Yekaterinburg, Saint Petersburg, Perm and Karaganda (Kazakhstan).
This year, the lineup even at the RoboCup Russia Open 2018 included RoboCupJunior Soccer, RoboCupJunior Rescue Maze, RoboCup Junior OnStage, RoboCupJunior Rescue Simulation (CoSpace), RTC Cup and RTC Cup Mini, and RoboCup Humanoid KidSize Soccer.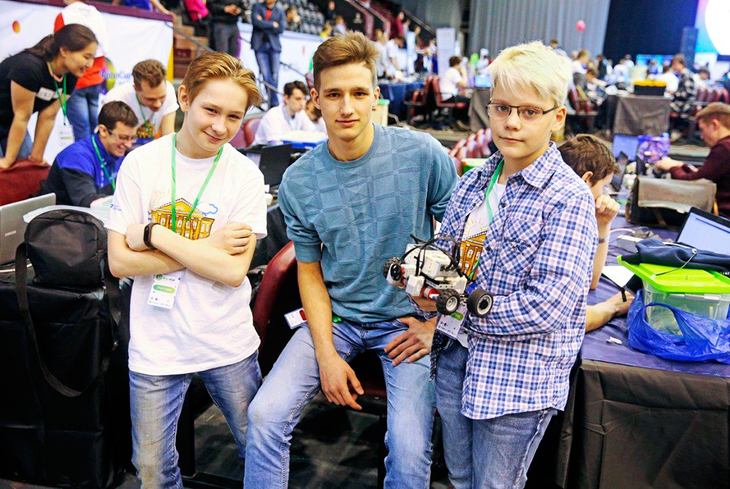 Speaking at the Closing Ceremony, TUSUR Rector Alexander Shelupanov commented that the national championship has bloomed into a massive event, while just several years ago Russia did not have even a national committee.
The 2018 winners qualify for three international RoboCup competitions: the first super-regional European RoboCupJunior Championship (to be held from June 1 to May 29 in Italy), RoboCup World Final (to be held from 16 to 22 June in Montreal, Canada) and the super-regional RoboCup Asia-Pacific (to be held in October 2018 on Kish, Iran). This year, the total quota for Russian teams at international events is at 40 with access to all the leagues.
RoboCup is one of the most high-profile robotics competitions in the world that first came to Russia in May 2016 when the first RoboCup Russia Open was held in Tomsk. The event was held at the joint initiative of TUSUR University and the Tomsk Regional Administration and with the personal support of the Governor of Tomsk region Sergey Zhvachkin, and the Russian National RoboCup Committee.