December 30, 2020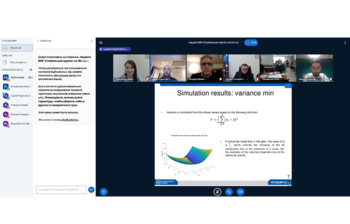 Master students of the TUSUR—Polytech Nantes Dual Degree program enrolled in 2018 have graduated after successfully defending their theses.
Earlier in December, students of the TUSUR—Polytech Nantes (France) Dual Degree program Laudrin Corentin and Marais Hugo defended their Master theses, completing their training in Information Technologies and Communication Systems.
According to the Expert of TUSUR Division of International Cooperation Maria Afanasyeva, in 2020, TUSUR did not halt its joint programs implemented with international partner universities, despite the restrictions imposed by the pandemic. With the help of distance learning technologies, all current dual degree programs are running smoothly, and the university is working on new joint course and programs with European partners, including joint Master programs with universities from Germany, France, Finland, and the Netherlands.
Within the framework of the dual degree program with Polytech Nantes, the first year of the Master program was taught at TUSUR at the Department of Radio Engineering, and for their second year, the students from Russia, Kazakhstan and Algeria traveled to Nantes, France. They presented their Master theses to a panel of experts that included faculty of TUSUR University and the program coordinators from Polytech Nantes Tchanguiz Razban.
TUSUR implements a number of dual degree programs with universities from France, Japan, and Kazakhstan. Experience has shown that such programs benefit from a high degree of integration and enjoy popularity among potential students.