April 29, 2020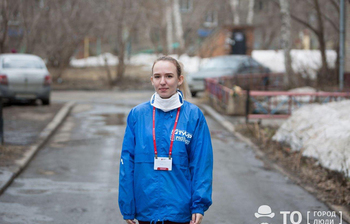 Volunteers from TUSUR University are providing digital support to schools, help University faculty members and operating from the volunteering headquarters that offers assistance to elderly people and people with disabilities.
According to the TUSUR Student Union, 54 students of TUSUR University are currently volunteering for mitigation of the pandemic crisis in Tomsk, 20 of them providing digital assistance for Tomsk schools, 11 helping University faculty members with e-learning technologies, and 23 students operating from the volunteering headquarters of Tomsk region where they support quarantining elderly people and people with disabilities. In addition, student volunteers have been assisting with health monitoring in University buildings since the start of the lockdown period.
Student of TUSUR University Olga Vybornova is helping elderly people by doing their grocery shopping, buying medications, and paying their utility bills.
«I started just a week ago. By today, I've completed about a dozen orders. Everything's great, everyone I worked with was very nice. You have to keep in mind that you need to be specific. We always ask in detail our clients what exactly they want us to get, and which store or pharmacy they need us to go to… When I just started, I was anxious that if I bought something wrong it would upset some old lady, but I eventually realized that no one is going to blame me if I happen to buy milk from a wrong store», said Olga to obzor.city.
Volunteers operate in three shifts and process 15 to 50 applications from elderly people daily. Volunteers prepare shopping lists and make sure clarify any additional requirements. They hope to continue providing their services to elderly people of Tomsk once the pandemic crisis is over.
To join the volunteering headquarters, register at dobro.ru.