December 15, 2020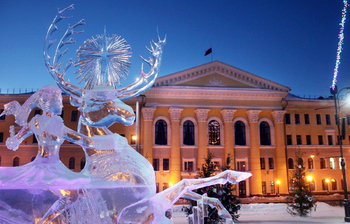 On January 18—29, 2021, TUSUR will hold an online winter school on Current Trends in Advanced Electronics where students will learn about the cutting-edge research of TUSUR University. More than 50 international Master students have already registered to participate.
Electronics is an important life of our everyday life that is constantly changing and developing. Every year, the revenue of the household electronics industry grows by 7.7%, and by 2023 the number of users in the sector is expected to reach 2 563 million, say organizers of the winter school.
"The reasoning behind our choice of the theme for the 2021 winter school is easy to see. Our university is one of the national leaders in research in microelectronics, photonics, and plasma electronics. Our scientific schools have accumulated massive experience that share with our students, partners and international colleagues, and are happy to broadcast globally," says TUSUR Vice-Rector for International Cooperation Gennady Kobzev.
The online winter school of TUSUR University will offer an overview of its key research dimensions in electronics. Training will be delivered through English-language lectures, lab tours and project sessions on micro and nanoelectronics, physical electronics, optics and photonics, electronic components.
In addition to the main part of the program with a heavy focus on electronics, the winter school will offer online classes in the Russian language and academic writing. Videos of the lectures will be published at a later date.
More than 50 Master students have already registered for the winter school, representing China, France, Japan, Finland, and Turkey. Participating will be students from Ritsumeikan University (Japan), Bordeaux INP (France), LUT University (Finland), Tianjin University, Hebei University of Technology (China), Royal Institute of Technology (Sweden), University of Twente (Netherlands), Otto von Guericke Universität Magdeburg (Germany).
Learn more and register for the winter school on the official website.