December 23, 2014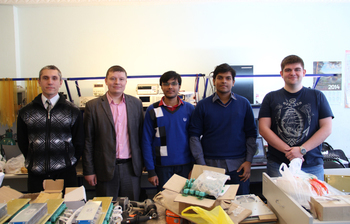 This December TUSUR University welcomed a new group of international students who came to Tomsk for internship. Three of the interns are bachelor students of SRM University (Chennai, India) majoring in Electronics. Shivam Prakash and Anirudh Shandilya Annavajhala will be working at the Department of Industrial Electronics. Dikshya Swain has special interest in robotics, and her internship program will be supervised by the Department of Complex Information Security of Computer Systems. Another intern, Syed Ahsan Ghaffar, arrived from NED University of Engineering And Technology (Karachi, Pakistan) where he studies Electronics, his internship will be supervised by the Department of Telecommunications and Basic Principles of Radio Engineering.
TUSUR University has already run internship programs for two students of SRM University earlier this year. The new interns say that the reason they chose to come to Tomsk, and TUSUR, is the recommendation of their peers.
"We decided to make the most of our winter vacation and find internship in an overseas university. We sent applications to several universities, and TUSUR was the first one to respond. The University offered the programs we wanted and we didn't need to think twice before coming to Siberia", they say.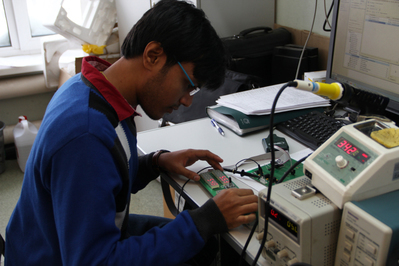 Back in their home university, the Indian interns study Electronics and Instrumentation Engineering. At TUSUR University, they will be supervised by Denis Pakhmurin, Associate Professor of the Department of Industrial Electronics. Shivam is assigned to the project "DC-AC High frequency Power converter for Induction Heating" and he will be involved in development of high-frequency converters. Anirudh will be working within the project "Bifurcation Analysis of DC/DC Converter" at the confluence of mathematics and power electronics.
"We study similar electronic systems at our home University, but we use different equipments. In the future we plan to take master's programs within the same major", says Shivam.
Their ten-week internship program also includes introduction to the Russian culture and study of the Russian language. Their language studies at TUSUR are supported by the Center of Training for International Students. The students have already started exploring Tomsk and made new friends. They say that although a new experience, Siberian winter doesn't scare them off.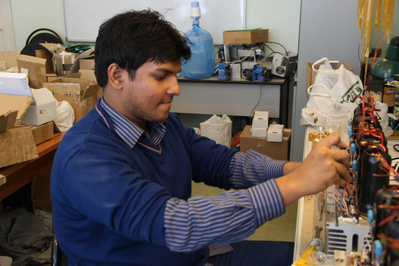 Their supervisor Denis Pakhmurin is impressed by his new interns and commends them for their knowledge and responsibility.
"We didn't choose these students at random. Both Shivam and Anirudh have hands-on experience with a variety of projects. They participated in a competition organized by NASA where they designed a miniature satellite. They are very sociable and curious and adapt easily to new environments", he says.
Syed Ahsan Ghaffar from Pakistan came to TUSUR to participate in the project "FPGA and ADC Development" under the supervision of Associate Professor Andrey Geltser. Because of his immense interest in the fundamentals of electronics and having prior knowledge and experience in microcontroller programming and robotics, Ahsan decided to work on developing FPGA circuit, which will be used in the prototype of a multifunction Radar for development of system for various radar applications. His lust for practical exposure in his field of interest motivated him to apply for this internship in TUSUR. He has participated in various completions held in Pakistan.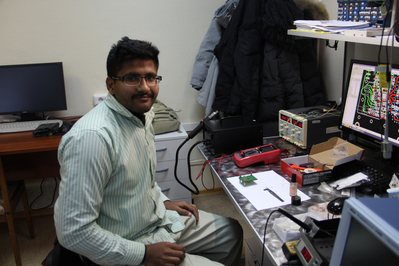 After completion of his bachelor program Ahsan is going to pursue a master's degree within the same major in Germany.
Dikshya Swain is also a student of SRM University where she studies Instrumentation and Control Engineering. She says that her internship at TUSUR is a good opportunity to work with latest technology. Just like her peers, after completing her bachelor program, she would like to continue her studies to pursue a master's degree. Dikshya sees her career in robotics and aims to become a pioneer in this field.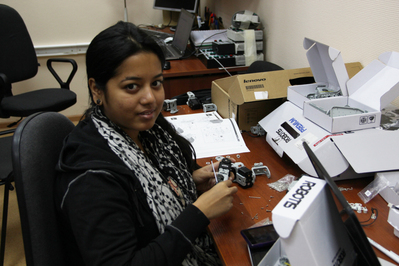 Her internship at TUSUR University is supervised by Assistant Professor Oleg Pekhov. She began her work with manipulators based on Android platform. In the course of her internship program she will study robotic type constructor system "Bioloid" and by the end of the ten-week period, Dikshya will have constructed and programmed her own Bioloid.
Her supervisor says that Dikshya has good knowledge and skills. "She is very enthusiastic about her studies and shows incredible commitment and ability to focus. On our part, we make sure to accommodate her talent at our University", says Oleg Pekhov.