August 01, 2018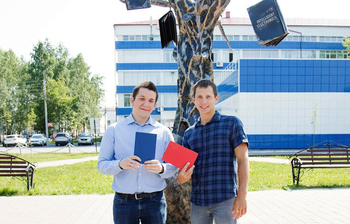 Diplomas were awarded to the first Master students from France, Russia and Kazakhstan to complete the joint degree program of TUSUR University and the University of Limoges in home automation.
A total of ten students from Russia, France and Kazakhstan have successfully defended their Master theses: they developed new IT device for improved quality of life of older people, people with limited mobility and disabilities.
The students have spent their first year of study at TUSUR, relocating to France for the first semester of their second year, and then spend their last semester of study at various universities across Europe where they carried out practical research. Romain Vaissie from France has returned to TUSUR for his last semester and defense of his thesis. He says that at the end of the summer he will go to France and get a job in a company that works with Russia. He has no doubt that the TUSUR/Limoges diploma will help drive his future career.
«TUSUR offers several joined academic programs with international universities based in the USA, France and Japan for Bachelor and Master students. This year our joint degree program implemented by TUSUR and the University of Limoges has seen its first graduation. With two diplomas and experience obtained in Russia, France and other countries in the course of the program, the graduates have good career prospects in transnational companies», says Maria Afanasyeva, Expert of the TUSUR Division of International Cooperation.
In 2018, over 350 international students graduated from TUSUR University, representing eight countries. Nationals of more than 30 countries are currently studying at TUSUR.
In 2018, the enrollment campaign at TUSUR has received the University's first applications from Indonesia, Jordan, Nigeria, Senegal, Turkey, in addition to application from Algeria, Vietnam, Zimbabwe, Iraq, Iran, Cameroon, Cote-dIvoire, Mongolia, Syria and France.
International applicants are invited to address any inquiries regarding enrollment to and study at TUSUR University to inter@main.tusur.ru.