June 03, 2011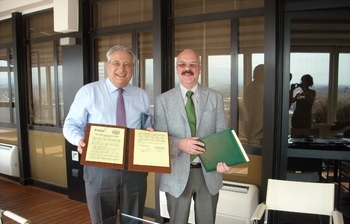 23 — 27 of May 2011 Vice rector for Academic Affairs Dr. Lev Bokov and Associate Professor of Department of Computer Control and Design Systems Dr. Leonid Babak Visited the University of Rome «Tor Vergata» (Italy).
The purpose of this mission was to sign the memorandum of understanding between our institutions. The cooperation will start from joint projects in micro-wave electronics.
The university of Rome «Tor Vergata» is one of the largest research-based institutions in Italy. It has over 44 000 students. One university building «Villa Mondragon» is associated with important historical events like signing of calendar reform by the Pope Gregory XIII in 1752, the experiments of Galileo Galilee and one of the first wireless transmissions realised by Guglielmo Marconi.
The idea to star this collaboration between our universities was born last year during the visit of two Italian professors Paolo Colantonio and Giorgio Leuzzi. Their lectures were a part of ROSNANO educational program, but lead to joint R& D project between the Department of Computer Control and Design Systems and the research groups from «Tor Vergata», devoted to development of high-efficiency microwave transistor amplifiers based on Gallium Nitride (GaN).
Our delegation met with the Rector of «Tor Vergata» Prof. Renato Lauro. During this meeting Dr. Bokov and Dr. Babak presented the international activities of TUSUR, discussed the perspectives of the cooperation and signed the memorandum.
After visiting university campus and its laboratories Russian and Italian colleagues had more detailed conversation on project in progress and expanding the cooperation to other fields, like distance learning, participation in International summer school dedicated to micro-wave electronics, academic mobility, and «Smart house» technologies.
Information source: Russian-French centre of TUSUR