June 14, 2019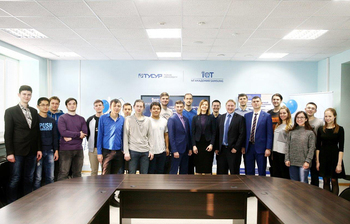 Samsung Academy was launched at TUSUR University in 2019 within the framework of the company's large-scale educational project, TUSUR being the only university from Tomsk included in the list of venues. Samsung IoT Academy is a long-term project designed to promote digital economy by delivering practical engineering training for students and using some of the best universities of Russia as its venues.
The first student group started its training in the fall of 2018 and currently 50 students are enrolled to the Samsung IoT Academy, most of them representatives of the TUSUR Faculty of Security.
During the first term, they studied IoT cases, such as the electronic lock, temperature and humidity monitoring in a pharma warehouse, adaptive office lighting, smart trash container, automated greenhouse. During the second term the students were challenged to create their own projects with a focus on the IoT and practical application.