June 25, 2010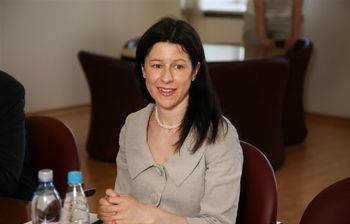 On June 17, 2010 Julia Knights, First Secretary of the British Embassy in Moscow and Head of Science and Innovation Section, visited TUSUR during her working visit to Tomsk.
Ms. Knights met with Alexander Shelupanov, Vice-Rector for Research, and Leonid Babak and Nikolai Malyutin, heads of «Nanotechnology» Research and Educational Center at TUSUR.
During her visit Ms. Knights learnt about priority lines of research carried out at TUSUR, as well as basic and applied research results obtained at the university. Training of highly qualified personnel for innovative economy was also discussed.
Ms. Knights stressed that she was amazed and pleased by the fact that TUSUR was actively involved in innovations, both developing science-intensive products and promoting them in the market.
The year 2011 is planned to be the year of Great Britain in Russia, therefore both parties voiced their willingness to use this opportunity and establish a mutually beneficial partnership.
— The visit of Julia Knights to TUSUR is regarded as a basis for cooperation of our university with research and educational organizations of Great Britain, — said Alexander Shelupanov, Vice-Rector for Research, summarizing the outcome of this meeting.
During her two-day stay in Tomsk Julia Knights visited the southern site of the Tomsk Special Economic Zone and met with Vladislav Zinchenko, Deputy Governor for science, technology, innovation and education, as well as with representatives of Tomsk universities and research institutes.
Photo by Sergey Zakharov