September 17, 2014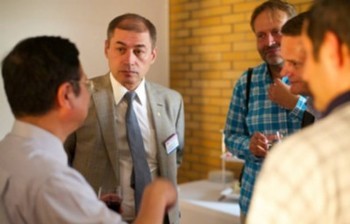 Young scientists from TUSUR University and Ritsumeikan University have come to Warsaw for the fourth international Workshop IICST 2014.
On September 3—5 the Polish-Japanese Institute of Information Technology hosted the fourth annual international Workshop Innovations in Information and Communication Science and Technology, IICST 2014, organized by TUSUR University and Ritsumeikan University.
Innovation lies in the very heart of the Workshop: even though it is moderated by recognized experts in their fields, the flow of its discussion relies heavily on young scientists whose presentations are the key element of the agenda. The goal of the invited experts is to give feedback to their works, help find their strengths and growth areas, raise unexpected questions and offer insight which could help make their developments marketable. This way recent university graduates and young scientists have a chance to network with prominent representatives of academia, business and industry, which may flourish into fruitful cooperation.
The Workshop is held entirely in English, which makes possible truly global cooperation between its participants. In 2014 the Workshop was for the first time held at a new venue, moving from Tomsk to the Polish-Japanese Institute of Information Technology in Warsaw. This year the IICST Workshop brought together representatives of 12 countries.
Organizationally, IICST 2014 included three tracks:
The Education Track, focused on ICT innovation management and project-based education.
The Academic Track, focused on social informatics, intelligent systems and robotics, and hardware technologies. These main themes outline the major areas for contributions from student and young researcher presentations.
Special Organized Sessions, aimed at promoting student-expert interactions and broad discussions in a variety of fields.
All papers accepted for presentation at the Workshop will be published either in an edited volume of the IICST 2014 electronic proceedings (papers accepted for poster presentation), and in the post-proceedings by Elsevier in its open access Procedia Technology (papers accepted for oral presentation).
The TUSUR University delegation to the IICST 2014 was headed by Vice Rector for Innovative Development and International Affairs Alexander Uvarov who made a speech at the plenary session.
The IICST 2015 Workshop is scheduled to be held in September 2015 in Japan, call for papers will be announced in March 2015.