August 23, 2019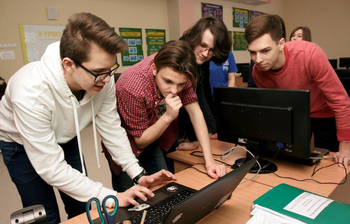 With applications for the 2019/2020 academic year closed, TUSUR University announces the results of its 2019 enrollment campaign.
In 2019, the average score of prospective students looking to pursue degree programs offered at TUSUR University increased by 50% compared to the previous year. Software Engineering, Information and Computer Science, and degrees with a focus on information security have been the most popular among high-score applicants, enjoying the highest enrollment competition.
The highest number of applications (over a thousand) was submitted for the Information and Computer Science program. Among other popular programs offered at TUSUR are Electronics and Nanoelectronics, Information Security, Information and Communication Technologies and Communication Systems, and Radio Engineering.
20 students from Algeria, Cote-d'Ivoire, Cameroon, Syria, Morocco, France, Nigeria, Afghanistan, and Indonesia have been enrolled to Bachelor, Master, and Postgraduate programs, 13 of them have been supported by the government scholarship of the Russian Federation. In 2019, the student population of TUSUR University will include representatives of 34 countries. Degree programs favored by international applicants included Information Systems and Technologies, Electronics and Nanoelectronics, Automation in Technology Processes and Production, Management, and Social Work.
By the late August, the pre-university course currently has received 40+ applications, including applications from Bolivia, Ethiopia, Mali, and Madagascar who have received the government scholarship of the Russian Federation. Applications will be open till September 1. Starting in 2019, the pre-university course at TUSUR will include career guidance classes that will help international students learn more about the degree programs available at the University and start planning their academic trajectory.
Among Russian applicants, 48% were residents of Tomsk and Tomsk region, while the rest represented 234 cities and towns in Russia.