November 29, 2010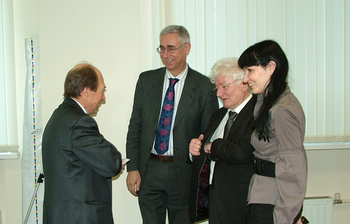 Agreement on cooperation between TUSUR and the French Embassy was signed in July 2010, and mutual desire to cooperate is getting stronger with every day, while agreement is expanding to cover more and more areas of interaction.
Only a month ago TUSUR had an honor of hosting Madame Tatiana Besory, attaché for cooperation in French language of the Embassy of France in the Russian Federation, and on Monday 22 November 2010 another Embassy delegation paid a visit to TUSUR. This time the focus was not on education and French language, but on scientific activities of the university.
Adviser on Science, Technology and Space Jean-Marie Freyssinet and Attaché for Science and Technology Michel Tararine came to TUSUR to get acquainted with its research and engineering achievements and help establish its cooperation with French partners. Vice-Rector for Innovative Development Alexander F. Uvarov and Head of International Cooperation Division Gennady A. Kobzev introduced their guests to achievements of TUSUR and companies forming part of TUSUR educational, scientific and innovative complex.
Members of the French delegation noted that TUSUR striked them as a dynamic university, where young scholars overcome the stereotype of science being unfashionable and carry on with their research, finding practical application for their R&D results and getting worldwide recognition for what they do.
Leonid Babak, Director of the Russia-France Centre, presented research contacts of TUSUR with France and offered a guided tour of the «Nanotechnology» Research and Educational Center. The visitors appreciated high quality of equipment and advanced R&D results in the field of nanotechnology and suggested making cooperation in this area more specific. For instance, the Embassy of France will offer scholarships to postgraduate students and faculty of TUSUR, who are willing to take part in the annual nanotechnology seminar in Grenoble and in other scientific and educational events and projects.