June 30, 2009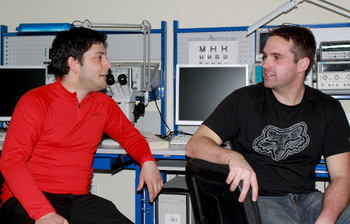 The meeting entitled «Russia-France. Student Exchange and International Projects» took place in June at the Student Business Incubator of TUSUR and involved the students of Limoges University (France).
The students of Limoges University Emeric Blachère and Mathieu Caplat came to Tomsk as part of exchange program to work on the joint Russia-France project. The young researchers from Limoges University and TUSUR joined their efforts to develop new engineering solutions and software for the elderly and people with disabilities. The Russian party in this project is represented by the postgraduate student of TUSUR Alexander Sizov and fifth-year students of the Faculty of Electronic Engineering Rafael Nigmatullin and Alexey Ponizov. Project coordinators on the part of TUSUR are associate professor of the Department of Complex Information Security of Computer Systems Roman Mescheryakov and Director of the Russia-France Centre of TUSUR, associate professor of the Department of Computer Control and Design Systems Leonid Babak. The leader of the project on the part of France is professor of Limoges University Laurent Billonnet.
Researchers from Tomsk and France will work on one common issue, but each party has a large individual part in this project.
- Tomsk students develop engineering devices to be adjusted by French students for the social support system, - explains the Russian project supervisor R.B. Mescheryakov. – The first stage of the project focuses on developing a system to evaluate quality of life of the elderly and people with disabilities by measuring hearing and voice quality. At the next stage sight and electrocardiogram data will be measured using, among others, devices and methods developed at TUSUR. Such systems will help improve the quality of life of the elderly and people with disabilities and reduce the workload of social workers.
At the end of their four-month internship Emeric Blachère and Mathieu Caplat will defend their work at the special seminar at TUSUR. TUSUR post-graduate student Alexander Sizov, in his turn, will go to France and continue work on this project. It will not be his first visit to France. Alexander studied at the University of Limoges for one year as part of the long-term program.
- I have never thought that I would ever learn French, - says the project participant Rafael Nigmatullin. – But when I learned that the Russia-France Centre at TUSUR provided a real opportunity to undergo training abroad, I started learning French from scratch. After completing my training as part of international exchange, I am planning to continue education in France. At the moment I am improving my knowledge of French in Tomsk with the help of Limoges students and Canadian teachers who work at the Centre.
Source: Russia-France Centre of TUSUR
In the photo: Limoges University students Emeric Blachère and Mathieu Caplat