July 12, 2016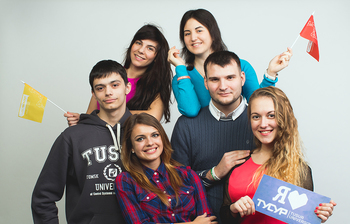 According to the results of the Graduate Employment Monitoring published by the Ministry of Education and Science of Russia, graduates of TUSUR University make 44,301 rubles/month on average during their first year of employment. That is half as much as the Russian-average graduate's salary of 30,600 rubles.
In terms of the payment level of its recent graduates, TUSUR University is an undisputed leader among the universities of Tomsk, ranking in the top 100 of universities with highest-paid graduates. The top 100 list is primarily composed of universities of Moscow and Saint Petersburg, TUSUR being the only representative of Tomsk.
The highest-paid alumni of TUSUR are Information and Communication Technologies and Systems majors who can expect a salary of 74,362 rubles in their first year of employment. Graduates of degree programs in Applied Informatics, Informatics and Computer Engineering, Control in Engineering Systems, Design and Technology of Electronic Systems, Radio Engineering, Information Security etc. are likely to find jobs with significantly higher-than-average salaries, ranging from 66,099 to 38,868 rubles.
Pavel Troyan, Vice-Rector for Academic Affairs

Our graduates have always stood out among their colleagues from other universities by their salary level. That is attributed to the fact that TUSUR students receive highly in-demand degrees and extensive practical training. Many of our students begin their careers in the 3rd or 4th years of studies and by the time they graduate, they already are fully integrated, experienced team members in their companies, with respectable salaries, while their peers from other universities graduate with mostly theory-based knowledge and have to spend years to gain enough experience to expect a salary above the 'beginner' level. TUSUR's unique project-based group learning technology allows up to equip our students with cutting-edge skills highly sought after by employers, ensuring excellent employability and fast career development of our graduates.
The Monitoring also demonstrates that recent graduates of TUSUR show a high employability, the majority finding good jobs within a year of graduation. The employment geography of TUSUR graduates in Russia alone covers 55 regions, and one-third find their first employment in Tomsk. TUSUR graduates possess valuable professional skills and enjoy high demand from leading industrial enterprises. Upon graduation, young professionals have numerous opportunities to relocate to Moscow, Saint Petersburg, Krasnoyarsk and other cities, and many international students return to their home countries. Graduates of engineering majors enjoy the highest employment level in the country, ranging from 80% to 90%.
The Graduate Employment Monitoring is based on the aggregate data collected from the Pension Fund of the Russian Federation, Federal Education and Science Supervision Service and reports of individual universities for 2014–2015.