November 14, 2019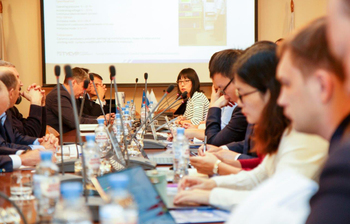 A delegation of representatives of Huawei has visited TUSUR University to discuss new opportunities for joint academic programs and research facilitation.
TUSUR has received a delegation from the largest Chinese telecommunication company Huawei led by the Director of Huawei Novosibirsk research center Xiao Chunpeng.
The guests met with some of the leading researchers of TUSUR University to discuss prospects of joint projects in research and education. TUSUR Vice Rector for Research and Innovation Anton Loshchilov has talked about the University's experience as a partner of Russian and international industry players. «Our students are active participants of the Huawei Seeds for the Future program that is designed to introduce young professionals to the latest developments in ICT, and to foster international professional relations. We are open to new forms of cooperation, including joint programs that would engage students of TUSUR University in applied projects of the company,» he added.
Representatives of Huawei have noted that they see TUSUR as their strategic partner and are interested in joined training for young researchers, offering them an opportunity to participate in Huawei scholarship programs. «Our company values talent and is happy to support initiatives for innovation development, especially in such areas as machine learning, big data, IoT, unmanned transport, telecommunications, and other IT segments,» said Xiao Chunpeng.
Huawei is one of the largest telecommunications companies in China and a leading global provider of ICT solutions. The company»s products are sold in 170 countries around the world, and more than 45% of its staff are R&D employees. Huawei has more than 100 branch offices and 20 research centers around the world.