March 05, 2020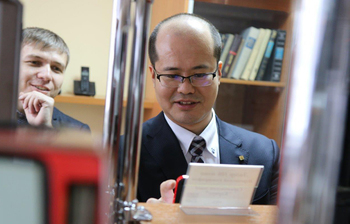 Tomsk State University of Control Systems and Radioelectronics has received a representative of the Japan-based company Kyocera to negotiate a joint project for development of a ceramic packaging for optical receiver modules.
A representative of the European unit of Kyocera Tsutomu Sugimoto has visited the Research Institute of Microelectronic Systems, a TUSUR division focused on development of integrated circuits, including the radiophotonic type.
«The name of Kyocera, which is mostly known to consumers as a manufacturer of office equipment, is an abbreviation for «Kyoto Ceramics» and its core business is in production of ceramics for metal-and-ceramic packages for electronic components», said Senior Research Officer of RIMS Fyodor Sheyerman. Kyocera has delivered several samples of its latest developments for testing at TUSUR University for its newest radiophotonic integrated circuits. The two parties will work together to ensure that a new unique package will be designed to support the 25+ Gbit/s bandwidth of the IC.
The finished module can be used in high-speed data transmission systems and data centers. Radiophotonic ICs are an important product for the needs of manufacturers of telecommunications equipment and optical communications devices.
As part of his visit to TUSUR University, Mr. Tsutomu Sugimoto has visited its units and laboratories that focus on microelectronics, and the new University Museum of Radio and Electronic Devices.
«Kyocera considers Tomsk region and TUSUR University to be its potential partners for cooperation projects. That is why, although it does not yet have a Russian office, it was important for the company to visit Tomsk to see its local enterprises and meet developers», said Fyodor Sheyerman. Beside TUSUR, the Kyocera representative also visited Micran, LEMZ-T, Research Institute of Semiconductor Devices.