February 28, 2019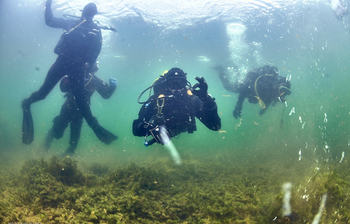 The Nayada Scuba Diving Club of TUSUR University is opening an new beginner class, taught entirely in English.
The TUSUR scuba diving club is currently offering several classes in finswimming, diving, cave diving, and offers training in rescue diving.
«This year we have received a large number of applications from entry-level students. Some of the applicants are international students who do not speak Russian very well, so in order to help them adapt, we have decided to offer a diving course in English», says the President of Nayada Mikhail Zhuravlev.
TUSUR divers are constant participants of research expeditions for mapping and clearing of water bodies across the Tomsk region. In order to become a true diver and contribute to the club's activities, it is vital to learn the international hand signals.
«The first thing every newcomer needs to learn is the special hand signals that divers use all over the world. Once they master those, diving will be easy and safe», says the coach Kirill Borodin. The coach is certified to teach the theory and practice of diving in English.
The course starts on February 28 (Thursday) at TUSUR Nayada club (Tomsk, Kirova Avenue, 56a) at 19.00.