March 26, 2019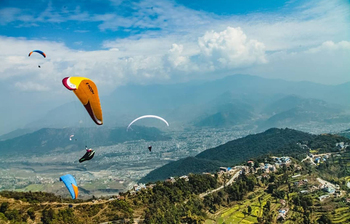 Earlier this month the 2019 Himalayan Open Cup ended in Pokhara (Nepal), with pilots Natalya Lipatnikova and Alexander Isayev from the TUSUR Podnebeskye Club representing Russia.
More than 60 pilots participated in the competition, representing Kazakhstan, Poland, Korea, Italy and other countries.
TUSUR pilots participated in the Soaring event. Master student of the Faculty of Radio Engineering Natalya Lipatnikova finished 3rd among women. Alexander Isayev finished 3rd in the overall ranking.
"Pilots competing in Soaring must follow a specific route with pre-determined coordinates, covering 30, 50, 70 or even 100 km utilizing wind directed upwards. Whoever finishes first is the winner," says head of the TUSUR Podnebesye Club Evgeny Rogozhnikov.
The 2019 Himalayan Open Cup was held on Sarangkot, a highly popular paragliding site. In order to qualify to compete, pilots needed to have experience paragliding in mountainous areas.
Natalya Lipatnikova is an experienced pilot who has tested her skill in Nepal, Himalaya, India, Kazakhstan. The Podnebesye Club holds regular training sessions in various terrains so that its pilots can master appropriate technique and show the best result at international championships.
Photo: 2019 Himalayan Open Cup, Alyona Shabalina