March 25, 2014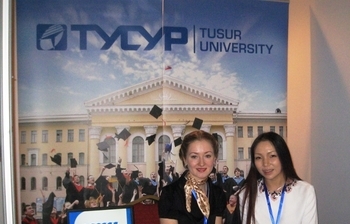 Moreover, as part of their visit to Mongolia, on March 21 representatives of Tomsk universities presented their educational products in Mongolian-Russian school #3, Mongolian University of Science and Technology and in the Ulan-Bator branch of Plekhanov Russian University of Economics.
On March 23 the delegates visited the Russian Center of Science and Culture where together with representatives of Rossotrudnichestvo they discussed the problem of attracting students from Mongolia to Russian universities.
The visit of the Tomsk delegation to Mongolia was organized by the Department of International and Regional Relations and the Department of Higher Professional Education and supported by the Mongolian office of Rossotrudnichestvo.
It was the second time TUSUR University was presenting its education products in Mongolia. After its fist participation in the International Education Exhibition in 2013, 15 Mongolian students enrolled to study at the University.