June 25, 2010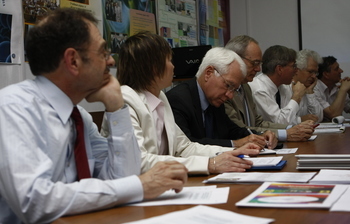 Representatives of seven Siberian universities met with the leaders of key departments and divisions of Massachusetts Institute of Technology (MIT) on June 16 in Novosibirsk.
The delegation of MIT visited Russia in order to find the strongest universities, establish contacts and create joint research laboratories.
During their visit to Russia, representatives of MIT went to Moscow, St. Petersburg and Novosibirsk with the aim to get acquainted with faculty and staff dealing with innovations at Russian universities and research institutes, as well as to establish contacts and create joint research laboratories. These laboratories would form a chain within the framework of the Russian Silicon Valley Project in Skolkovo and would focus on research and development with subsequent commercialization of R&D results.
MIT delegation included 11 representatives of the university administration: MIT Rector — Rafael Reif, Vice President and General Counsel — Richard Gregory Morgan, Vice President for Research — Claude Roger Canizares, Dean of the School of Science — Marc Aaron Kastner, Head of the Department of Nuclear Science and Engineering — Richard Keith Lester, Professor of the History of Science — Loren Raymond Graham, Professor of Chemistry and Bioengineering — Alexander M. Klibanov, chair of the Department of Earth, Atmospheric and Planetary Science — Maria Theresa Zuber, and Chair of the MIT Enterprise Forum — Richard Kivel.
Seven universities presented their strategies and key R&D fields in Novosibirsk, namely: TUSUR, Tomsk State University, Tomsk Polytechnic University, Siberian State Medical University, Siberian Federal University, Novosibirsk State University, and Novosibirsk State Engineering University.
TUSUR delegation was led by Gennady A. Kobzev, Head of International Cooperation Division. In his presentation he demonstrated that TUSUR had firmly positioned itself in Russian and international research and development. This presentation drew significant attention of the MIT delegation. MIT representatives noted activities of the Student Business Incubator and international bridges of knowledge and technology transfer, four of which had been created at TUSUR (Tomsk — Nuremberg, Tomsk-Toronto, Tomsk — California, Tomsk — the Netherlands). Business incubator and «bridges» are essential structural parts of the entrepreneurial university model.
Photo: delegation of Massachusetts Institute of Technology.
Photo provided by: Press Service of Novosibirsk State University.
Source: Centre of Corporate Development, TUSUR Institute of Innovation