November 18, 2019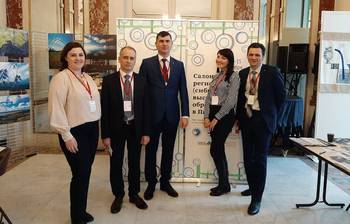 Rector of TUSUR University has joined a delegation of Siberian universities to Paris where they presented the academic opportunities for international students and met with representatives of French universities.
The Russian delegation consisted of representatives of twelve Siberian universities, including the universities of Tomsk, Novosibirsk, Krasnoyarsk, Yakutsk, and other cities. Tomsk State University of Control Systems and Radioelectronics was represented by its Rector Victor Rulevskiy.
At a special session in the Russian Center of Science of Culture in Paris, TUSUR presented its academic opportunities, including its current dual degree Master programs with French universities: Information and Communication Technologies and Communication Systems (Home Automation) with the University of Limoges, Information and Communication Technologies and Communication Systems with Polytech Nantes, and Microelectronics with Bordeaux Polytechnic Institute.
On November 13, the University discussed new dual degree programs with the University of Savoy Mont Blanc, research projects with Bordeaux National Polytechnic Institute, and academic mobility programs with EISTI.
Cooperation with French universities is among the strongest dimensions of the international activities for TUSUR University: its academic mobility programs have been providing its students with opportunities of international education for 15 years.