October 31, 2016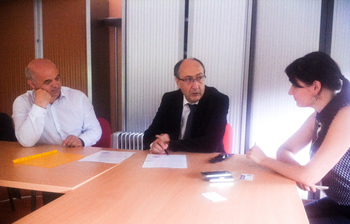 The two universities made a preliminary agreement to pursue cooperation in April 2016, at the French-Siberian forum for joint academic programs of French and Siberian universities.
At the forum, TUSUR University presented its learning technologies and research results, which attracted a strong interested from international participants, among them the Graduate School in Computer Science and Mathematics Engineering (EISTI, Paris, France), the National Conservatory of Arts and Crafts (CNAM, Paris, France), and the University of Savoy Mont Blanc (USMB, Chambery, France).
The University of Savoy Mont Blanc, a new partner of TUSUR University, stands in a picturesque region at the foot of the French Alps. The University has extensive experience with international exchange programs – according to the national statistics of France, it has the largest number of students who participate in international exchange programs. The University has a rich innovation infrastructure and is strongly interested in exchange of best practices in project-based group learning and joint student projects.
Upon invitation, a TUSUR delegation has visited the University's main campus in Savoy where it presented its educational programs to the French students. As part of this visit, the two universities have signed a cooperation agreement for joint student and researcher exchange programs focusing on electronics and telecommunications, microwave electronics and innovation management. The first students from the University of Savoy Mont Blanc will arrive to TUSUR in 2017. If the future, the two universities expect to develop joint Master degree programs in mechatronics and international entrepreneurship.