January 19, 2010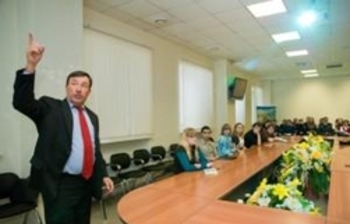 Martti Vallila, an American entrepreneur of Finnish origin and president of Virtual Pro Inc., paid a three-day visit to TUSUR. This visit resulted in a contract on large-scale cooperation between the university and Virtual Pro Inc., company commercializing Russian R&D results in the western markets.
The government of Finland commissioned Mr. Vallila to visit Tomsk in order to evaluate innovative and commercial potential of the Tomsk region and identify future partners for long-term Russian-Finnish cooperation in the field of innovations.
— TUSUR created infrastructure needed to commercialize R&D results. This infrastructure can rival that of many western universities. Moreover, TUSUR has already acquired significant experience in promotion of its R&D results in the western markets. Cooperation with Finland in this field will expand the range of opportunities for TUSUR researchers in the international arena, — noted Mr. Martti Vallila.
In the course of his visit, the U.S. entrepreneur also delivered a set of lectures for TUSUR students and held a range of consultations for heads of companies operating under the aegis of the Student Business Incubator.
In addition to commercialization of TUSUR R&D results, agreement reached by TUSUR and Virtual Pro Inc. also envisages dynamic exchange programs for students and faculty of TUSUR and several Finnish universities, which are particularly interested in new partnerships.
Background information
Martti Vallila was born in Prague in the family of a Finnish diplomat, and grew up and studied in the USA. He worked at IBM for over 10 years. In the early 1990s he left IBM, won a tender to organize reception of Russian entrepreneurs and started developing cooperation with Russia. This project later came to focus on commercialization of patents and venture activity.
Martti Vallila is experienced in finding Finnish investors for Russian R&D. «In the beginning of his diplomatic career, my father was involved in negotiation of postwar agreements between Finland and the Soviet Union. Then I could not even imagine that many years later I would return to the same geopolitical arena», — wrote Martti Vallila in his memoirs. In one of his interviews Mr. Vallila told about a Russian chemist who was the first to identify the source of Alzheimer's disease and invented a method to deliver medication to the brain cells. Mr. Vallila helped organize a company in Finland to create a prototype of this medication and technology, while another Finnish company sponsored preclinical trials.
Martti Vallila has been visiting Russia in search of new ideas since mid-1990s. Every time he comes to the science campus of Novosibirsk and establishes new contacts with local developers. Now that Martti Vallila got acquainted with TUSUR, he will add Tomsk to his list of Siberian cities that are rich in talented people and promising technologies.
News source and photo: TUSUR Division of International Cooperation
Source of background information: