May 22, 2013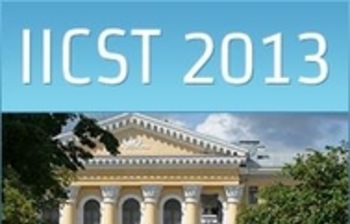 The Innovations in Information and Communication Science and Technology (IICST 2013) conference will be held on September 2—5, 2013.
Innovations in Information and Communication Science and Technology
IICST 2013 — Third Postgraduate Consortium International Workshop
The Digital Dimensions of Social Evolution
Agility, broad expertise, knowledge-intensive design, distributed development by multinational teams, global markets, and heavy reliance on rapidly evolving information technology throughout the product life cycle are imperative characteristics of modern industry. To prepare specialists capable of successfully dealing with these challenges, educational institutions worldwide strive to find and implement new mechanisms for teaching premier technical knowledge in combination with relevant socio-cultural competencies and professional communication skills. The "Innovations in Information and Communication Science and Technology," IICST Postgraduate Consortium International Workshop is one practical realization of the new educational mechanisms.
IICST 2013 Workshop is intended to bring together graduate students and young researchers working in the field of information and communication science and technology, and give them an opportunity to discuss their studies in an international atmosphere with prominent scholars and engineers, prompting all kinds of collaboration and cooperation among participants.
Contributions in the form of paper or demonstration for IICST 2013 are sought from graduate students and young researchers. Well-established academics and industry practitioners are also invited to submit proposals for organized sessions and special lectures. Papers accepted for presentation at the workshop will be published in an edited volume, while several selected papers will be recommended for publication, in a revised form, in a specialized international journal.
IICST 2013 is organized under the general theme of "The Digital Dimensions of Social Evolution," while its list of topics includes, but is in no way limited to the following:
Robots
Anthropomorphic or bionic design and control
Human body dynamics, control, and sensing
Neuro- and brain-machine interfaces
Robot applications: social, industrial, health-related, entertainment, education
Robotic innovations
Future robots
Social robotics, robot-human sociology and economics
Digital archives
Information design and modeling
Computer research and applications in economics, literature, linguistics, education, and cultural and historical studies
Digital arts, architecture, music, film, theatre, new media, and digital games
Innovative archiving technologies, digital humanities research and applications
Computational Intelligence and Human Interface
Innovative intelligent systems
Machine learning
Soft computing
Image and audio processing and analysis
Bioinformatics
Natural language processing
Innovations in multimedia systems and their applications
Theoretical principles of and design approaches for multimodal user interfaces
Empirical evaluation and analysis of applications of multimodal systems
Innovative multimodal interaction technologies and systems
Effective multimodal interaction scenarios
Virtual and mediated (diminished/augmented) reality
Affective computing
Mobile multimodal interactions
Ubiquitous and pervasive computing
Submission deadlines
Paper submission: July 1 (please refer to the paper requirements)
Review results, registration: July 7
Print-ready paper submission: July 16
Please see the workshop site for more information, or send your inquiries to the Division of International Cooperation.