August 12, 2016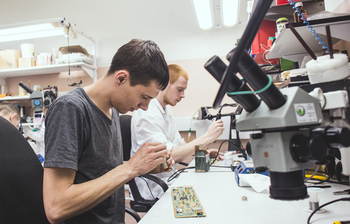 TUSUR University has ranked 42nd in the Research category of the National University Ranking, having improved its 2015 result by 49 positions.
In 2016, a total of 238 Russian universities were evaluated for the Research category of the National University Ranking. The evaluation was based on criteria such as levels of high-performance computing and mathematical simulation, publications and citations indexed by Scopus and the Russian Science Citation Index, financing of university research.
TUSUR University ranked 21st in terms of financing of its own research and design activities in 2015, and 37th in terms of organization of its high-performance computing and computer simulation. The latter parameter assesses both the computing capacity, and the development of digital technologies and their use for research.
«TUSUR University invests great effort in development of its digital infrastructure, making use of it in research and in university administration. This year we are launching our automated campus administration system that will make dormitory check-ins for our students fast and easy», comments the Head of the Innovation Administration Yuri Gritsenko.
Head of the Research Administration Evgeny Ageev notes that, compared to the 2015 results, TUSUR has improved its results in publications, citations and training of highly qualified professionals.
The National University Ranking is an independent ranking system for Russian univerisities compiled by Information Group Interfax.