May 15, 2017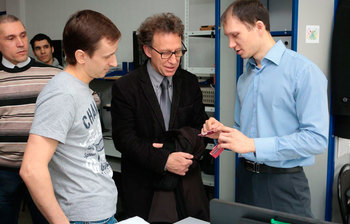 TUSUR Rector has discussed potential projects with the Director of CNAM Professor Michel Terre who is in Tomsk on a working visit.
CNAM (Conservatoire national des arts et métiers, National Conservatory of Arts and Crafts) is the oldest engineering school in France, created in the 18th century as a depository of achievements in engineering and technology that has since evolved into an educational institution.
TUSUR University and CNAM signed a cooperation agreement in December 2016, establishing a framework for cooperation in research and education, academic mobility, joint PhD programs and applications to European research projects.
During his current visit to TUSUR, Professor Terre has discussed a new potential area for cooperation – e-learning. Both TUSUR and CNAM have extensive experience in distance learning: the TUSUR Faculty of Distance Learning was founded 20 years ago and today has over 7000 Russian and international students from over 100 cities; CNAM is France's top distance learning center, and one of the best in Europe, offering e-learning opportunities to about 20,000 students.
As part of his visit, Professor Terre has also became acquainted with the university laboratories, participated in the TUSUR Research Workshop 2017 and saw the new radio exhibition and the Tree of Knowledge sculpture unveiled in celebration of the Radio Day.