May 14, 2018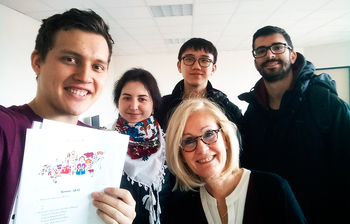 Students of TUSUR Faculty of Security are currently doing an internship at EISTI, France, within the framework of a bilateral program of academic cooperation.
Svetlana Pekarskikh and Rustam Gazizov became the first TUSUR students to start the new academic mobility program with EISTI. As part of their internship in France, they are studying Machine Learning, Text Mining, Big Data and Data Analysis. The internship program includes lectures, practical classes, workshops, forums and exhibitions and will continue till the end of May.
The internship opportunity is available through the 2016 academic cooperation agreement between TUSUR University and EISTI that also provides for faculty mobility and joint research projects. During their stay in France, TUSUR students can apply for a special scholarship to cover their tuition expenses.
Svetlana Pekarskikh, student of TUSUR Faculty of Security
I appreciate the practical focus of my internship and the opportunity to access the best practices in the field. Our projects are supervised by a Data Scientist from a Big Data company. He teaches us to work with tools that are currently used in the industry.
Within the framework of the same agreement, in 2018 TUSUR University will offer internship opportunities to a new group of EISTI students as well, after a successful debut of the mobility program in 2017 when French students travelled to Tomsk to study equipment, signals and algorithms for data receipt, processing and recovery under noise conditions. The new group of students will join projects in innovations, telecommunications, data communication systems, etc.
Currently the cooperation between TUSUR University and EISTI has moved to a new level: the parties have agreed tolaunch a joint dual-degree Master program in Big Data. The program is expected to be launched in September 2018.