March 12, 2019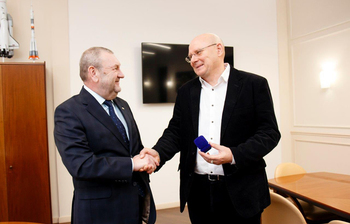 TUSUR Rector Alexander Shelupanov has presented a commemorative silver pin of TUSUR University to the Head of the International Laboratory of Theoretical Cosmology Sergey Odintsov in recognition of his merits and in celebration of his 60th birthday.
The unique silver lapel pin of TUSUR University shows an engraved MIC produced by the University's Nanotechnology center. When presenting the pin, Alexander Shelupanov has emphasized the immense impact of Professor's Odintsov research in the theory of gravitation, mathematical physics and cosmology.
«A highly-regarded researcher, you are a prominent representative of the Tomsk higher education in international rankings. Your work is highly impactful on a global scale and you genuinely love the work of your life: Science, Research, Discovery and New Knowledge. This approach to science as a never-ending pursuit that unveils the mysteries of the Universe and lets us discover something new and then search further has always been intrinsic to our system of education and research. And we are proud to have our best scholarly traditions be represented by you, and we are grateful for your contribution to the development of the science of Tomsk», said Alexander Shelpuanov.
The Laboratory of Theoretical Cosmology headed by Sergey Odintsov was created in 2015. The Laboratory studies the evolution of the Universe through various theoretical models, including dark energy and dark matter models. The Laboratory is the organizer of the Siberian Cosmology Days in Tomsk: in 2018, the workshop brought together participants from Italy, Spain, Greece, Japan, Egypt, India and Armenia.
For several years in a row, Professor Odintsov has been recognized as one the world's most prominent researchers. In 2018 he was once again included in the Highly Cited Researchers (HCR) list published by Clarivate Analytics. Sergey Odintsov is the only representative of Tomsk universities included in the list.