April 19, 2019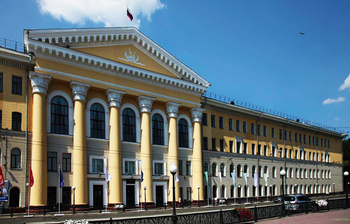 On April 18, the IEEE International Siberian Conference on Control and Communications (2019 SIBCON) opened at TUSUR University, bringing together researchers, experts, and developers from various countries.
The two-day Conference has a large lineup of speakers representing Moscow, Saint Petersburg, Kazan, Izhevsk, Barnaul, Omsk, Tomsk, Khabarovsk, Irkutsk, Novosibirsk, Krasnoyarsk, Ryazan, Togliatti, Murom, Kirov, Stavropol, Arkhangelsk, Penza, as well as Kazakhstan, Slovakia, and Canada.
The SIBCON focuses on the problems of the theory of control and communications, robotics and automation, computer measurements, sensors, and cyber physical systems.
Rector of TUSUR University Alexander Shelupanov said that the problems discussed at the conference are exceptionally crucial because the direction that the development of these problems will take is going to determine the success of process digitalization, life quality and safety improvement, and global adoption of conceptually new technologies. He added that the SIBCON will give impetus to new joint research and projects that will drive the development of electronics and information technology.
The SIBCON was created at TUSUR University in 1995 and over the years was hosted by Krasnoyarsk, Omsk, Moscow, and Astana. In 2019, the conference returned to its original venue at TUSUR.
The IEEE International Siberian Conference on Control and Communications is organized by TUSUR University, Siberian Section of the Institute of Electrical and Electronics Engineers (IEEE), Tomsk Chapter & Student Branch of the IEEE, National Instruments Rus, YP Group of the IEEE Siberian Section. The Conference is sponsored by the Symmetry Journal published by the Multidisciplinary Digital Publishing Institute (MDPI), and National Instruments Rus.