May 07, 2015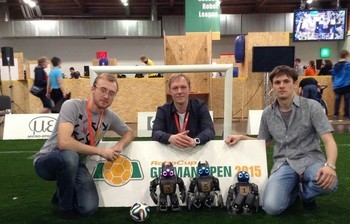 On April 24–26 the team of TUSUR University students finished second at RoboCup German Open 2015 in Magdeburg.
The TUSUR team competed in the Humanoid KidSize Soccer league for robots up to 90 cm tall, where it finished second. The first place was taken by the team of the Free University of Berlin, and the team of the University of Hertfordshire (UK) landed third.
In 2015 the TUSUR team competed in the KidSize league for the first time. After finishing in the top three, it will be able to compete in RoboCup 2015, which will be held in China in July.
Another important achievement of Russian teams in Germany was their overall self-presentation of the members of the RoboCup Federation.
"Today we, together with our colleagues from Saint Petersburg, are creating the Russian RoboCup Committee. That is an essential requirement for Russia's bid to host RoboCup 2018. We discussed our prospects with members of the Federation," says Evgeny Shandarov, Head of Laboratory of Robotics and AI at TUSUR University.
RoboCup German Open 2015 is the key European RoboCup championship. This year 40 teams competed in the championship, representing Germany, France, UK, Switzerland, the Netherlands, Portugal and others. Russia was represented by two teams – one from Tomsk (TUSUR) and one from Saint Petersburg.
TUSUR University has been an active and successful competitor at RoboCup championships since 2013, when its team won the first prize in the RoboCup 3D Soccer Simulation League at RoboCup Japan Open in Tokyo and finished among the top ten teams at RoboCup 2013 in Eindhoven (the Netherlands).