May 14, 2009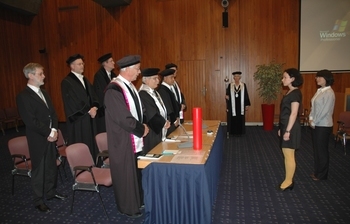 On May 11 Galina Babur, the staff member of TUSUR research administration, successfully defended her PhD dissertation entitled «Signal Processing in Double-Channel Polirimetric Radar Stations with Continuous Emission» at University of Technology in Delft (the Netherlands) and was conferred the PhD degree. Research supervisor of the dissertation was Director of the International Research Centre for Telecommunications and Radar at TUDelft, Honourable Professor of TUSUR, Prof. Leo P. Ligthart.
Dissertation council comprised well-known experts in the field of radar: Francois le Chevalier (Aerospace Division of «Thales» company, France), Peter Van Genderen (the Netherlands), several professors representing major Dutch universities, and world famous professor M. Chandra.
Several years ago Galina successfully defended her candidate of sciences dissertation at TUSUR. At present she continues research in the field of radar signal processing at University of Technology in Delft as a PhD holder.
News source and photo: Patent and Information Office of TUSUR