February 20, 2020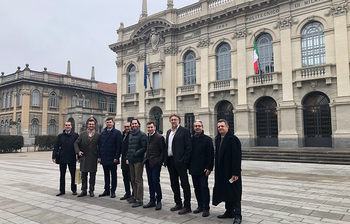 Tomsk State University of Control Systems and Radioelectronics and the Polytechnic University of Milan have reached a tentative agreement for development of a dual degree program.
Expected to launch in the autumn semester of 2020, the new joint degree program is primarily focused on training professionals for Micran and its R&D unit based in Italy. Such tentative agreement has been made during the visit of Rector Victor Rulevskiy to Italy where he held meetings with representatives of the Micran R&D unit and the Polytechnic University of Milan (POLIMI).
Research and Production Company Micran has offices in Italy, Vietnam, Brazil and the UAE, and is a core industrial partner of TUSUR University. The company is committed to supporting training of professionals with international competencies in microwave electronics, including industrial IoT, and 5G systems. These directions will be the focus on the new dual degree program by TUSUR University and POLIMI.
As part of their program in Italy, representatives of TUSUR have visited laboratories of the Micran R&D unit and the key faculties and technology centers of POLIMI.
«Micran is a strategic partner of TUSUR University, together we carry out a number of large-scale projects in telecommunications, radiolocation, micro and nanoelectronics, including those based in our Nanotechnology Center. This international expansion of our partnership will offer new opportunities to develop world-level projects both in research and education», said TUSUR Rector Victor Rulevskiy.
Aside from the new dual degree program, POLIMI and TUSUR University have agreed to develop joint research projects and interuniversity mobility opportunities for graduate and postgraduate students and faculty. The tentative agreement is expected to be formalized in May when a delegation of POLIMI will pay a return visit to TUSUR.
The Italian R&D unit of Micran focuses on development of wireless communications systems and delivery of reliable solutions and services for regional operators, wireless providers, and engineering communication companies. Created in 2014, the unit is staffed by professionals with expertise in radiorelay communications from Tomsk and Milan.
The Polytechnic University of Milan (Politecnico di Milano, POLIMI) is a state university and the largest engineering school in Italy, recognized as one of the best universities in the world. The University's priority directions include engineering and technology, natural sciences, mathematics, computer science, etc.