May 31, 2021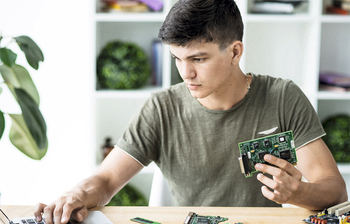 Students representing 9 universities are currently participating in the Integration of Innovative Educational Technologies Summer School, a joint event by TUSUR University and Peter the Great Saint Petersburg Polytechnic University (SPbPU).
On May 24, TUSUR University and SPbPU launched the Integration of Innovative Educational Technologies Summer School, a joint event within the framework of the ERASMUS + project. The Spring 2021 class includes students representing nine universities – project participants from 6 countries, including 14 students of the TUSUR Faculty of Innovation Technologies .
In his opening address, Vice Rector for International Cooperation Gennady Kobzev talked about the pioneering role of TUSUR in inclusion of Russian universities in European student mobility programs. And its current participation in the ERASMUS + project for development of e-learning courses for CEPHEI is just one of the steps in that process in recent years.
"Our faculty have created fairly advanced courses that are available to students from all over the world. We are very proud of the result, and I am confident that we will continue to use the CEPHEI platform in the future. Over these two weeks of the Summer School, the students will have a chance to explore those courses," said Gennady Kobzev. "The pandemic made any offline mobility extremely limited, and online teaching is something our University has been delivering for over 20 years, and our expertise in that area allows us to continue engaging large numbers of participants in our international projects."
From May 24 to 28, students attended online lectures by faculty of the two organizing universities. The second week of the Summer School will be held offline in Saint Petersburg as a hackathon where students will work on practical cases provided by business partners of the project.
TUSUR University, in collaboration with partner universities from Russia, Finland, Netherlands, Sweden, Turkey and China, with support of Key Action 2: Cooperation for innovation and good practice, a special ERASMUS + program, has implmented an international educational project for creation of an English-language platform CEPHEI (Cooperative e-Learning Platform for Higher Education in Industrial Innovation). The platform is meant to integrate national practices of innovation as represented by each participant and make them available to all students of the international academic community.