September 11, 2018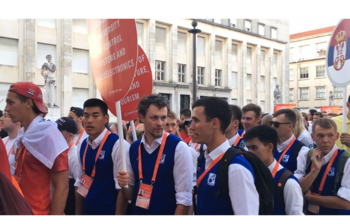 The rowing team of TUSUR University has for the first time in its history represented Russia at the 4th European Universities Games (EUSA) in Portugal.
The 2018 European Universities Games closed in Coimbra, Portugal, on July 18.
The Russia student rowing team came from TUSUR and included: Igor Romashov, Bair Balzhinimaev, Ilya Stupin, Roman Romantsov, Alexander Sidorov, Denis Dobkin, Marlen Frey, Evgeny Vershinin and Andrei Dobrynin. The TUSUR team finished fourth in Repêchage Rowing, only a couple of seconds behind the University of London team.
Coaches of the University's rowing team say that participation in the EUG is a huge breakthrough for the team, whose athletes can compete against the best names in the sport from all over the world while successfully balancing their athletic careers and academic life.
To qualify for the EUG, the TUSUR team has proven its mettle by competing and winning in a number of Russian and international events, including the summer events of the 2018 Students Rowing League where it collected the whole set of gold, silver and bronze medals.
This year, more than 4,000 athletes from 38 countries and 300 universities have participated in the European Universities Games. Over the course of three weeks they compete in 13 sporting events (rowing, badminton, basketball, 3х3 basketball, canoe sprint, football, futsal, handball, judo, rugby, table tennis, tennis, volleyball).