December 14, 2017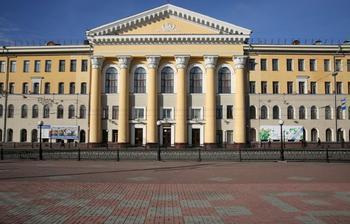 Tomsk State University of Control Systems and Radioelectronics was ranked among the top global universities in the Round University Ranking 2017–2018.
TUSUR University has ranked 21st in the Natural Sciences ranking in Russia, and 523rd in the world. Among the top 500 global universities, TUSUR ranked 275th by share of international students, 318th by research income per institutional income, and 361st by academic reputation.
In spring 2017, TUSUR was for the first time included in the global RUR ranking: the University reported growth in its research and innovation performance and reaffirmed its consistently high international performance. In summer, TUSUR entered the World League of universities, having ranked 700th in the international reputation ranking complied by RUR.
According to Director of Round University Ranking (RUR) Oleg Solovyov, who visited TUSUR in November, the international academic community sees TUSUR as a research university, in contrast to the generalized profile of a Russian university that traditionally has a strong focus on teaching. The expert adds that a stronger research performance in research is more characteristic to foreign universities and is unique for Russia.
Round University Ranking (RUR Ranking) is a world university ranking, assessing effectiveness of the leading world universities based on 20 indicators distributed among 4 key dimension areas: teaching, research, international diversity, financial sustainability. The RUR Rankings publisher is an independent RUR Rankings Agency, located in Moscow, Russia. The raw data for RUR Ranking is provided within a special annual survey run by Thomson Reuters – Global Institutional Profiles Project.