October 11, 2021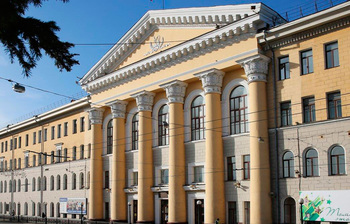 Tomsk State University of Control Systems and Radioelectronics is among winners of the second selection round for the special grant within the Priority 2030 program, awarded for the development of research and industry leadership. A total of four Tomsk universities received their individual grants.
The Governor of Tomsk region Sergey Zhvachkin congratulated the universities on their remarkable success, commenting that it serves to validate the development strategy that the higher education of Tomsk follows. Rooted in the United Tomsk Universities Project, it places its stake on outstripping development of research, close collaboration with real economy enterprises and science-intensive business.
In their submissions to the Priority 2030 program Tomsk universities presented their development program that include 17 key projects that will leverage their mutual potential and their collaboration with some of the best research institutions and manufacturing companies. TUSUR will be developing projects in microelectronics and new generation communication systems; IT, secure digital environment and cyberphysical systems; space sciences and engineering; biomedical technologies.
The Ministry of Higher Education and Science reports that 46 universities representing 22 regions of Russia were awarded the special grant of the Priority 2030 program. In addition to the base grant awarded in September, special grant recipients will receive additional funding, to be disbursed by the end of 2022: 994 million ruble grants for group one winners, 426 million rubles grants for group two winners, 142 million rubles grands for group three winners.
Earlier, on September 27, the official website of the Priority 2030 program published the results of the first selection round. The base grant was awarded to 106 Russian universities, four of them representing Tomsk.
TUSUR University presented its program on September 12 to the Expert Commission chaired by the Minister of Science and Education Valery Falkov. The University was represented by its Rector Victor Rulevskiy, President Alexander Shelupanov, Deputy Director for Research of ISS Reshetnev Kirill Okhotkin, and Head of Marketing and Business Development of Micran Nikita Garshin. The team was supported by Vice-Governor of Tomsk region for Research and Education Complex and Digital Transformation Lyudmila Ogorodova.
Priority 2030 is a program by the Russian Ministry of Higher Education and Science. Launched in June 2021, Priority 2030 is the largest-scale program for support of Russian universities to be implemented in Russia, providing a massive impetus for competitive development of its participants. The program places special emphasis on accessibility and transparency of its processes. A total of 187 universities competed for the Priority 2030 grants.