February 05, 2014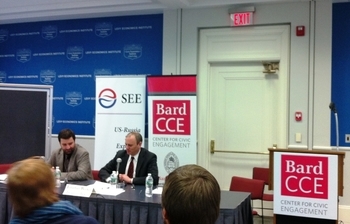 On January 30—February 1 TUSUR University participated in the U.S.–Russia Joint/Dual Degree Conference at Bard College and SUNY Global Center.
The conference, funded by the Eurasia Foundation, brought together institutions of higher education that are running or planning to launch joint and/or dual degree partnership programs in the United States and Russia. The goal of the conference was to further cooperation among institutions and to contribute to development of a professional network of institutions with shared interests. The conference discussed the efficacy of different program structures, best practices, and challenges, as well as opportunities for future U.S.–Russian collaboration in higher education.
Gennady Kobzev, Head of Division of International Cooperation, made a presentation about the experience of TUSUR University in implementation of its TUSUR—ESC SUNY Dual Degree Program. The program has been active between the two partners since 2007 and is available to Bachelor of Innovations students at TUSUR, who upon completing the Program receive a Bachelor degree in Business from the Empire State College SUNY.
Participating U.S. institutions included: Bard College, Clark University,  Massachusetts Institute of Technology,  SUNY Empire State College, and others.
Participating Russian institutions included: Financial University under the government of the Russian Federation, Higher School of Economics (Moscow), Moscow State University, Russian Academy of National Economy and Public Administration, Skolkovo Institute of Science and Technology, St. Petersburg State University, and others.