June 09, 2018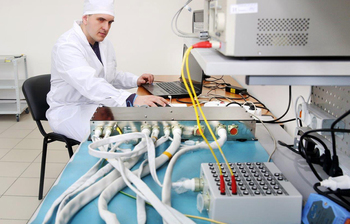 In the latest edition of the National University Ranking published by Interfax, Tomsk State University of Control Systems and Radioelectronics was named one of the 20 best innovative universities in Russia.
In 2018 TUSUR ranked 20th in the innovation raking, improving its 2017 position by 14 points. Universities in this subranking are evaluated by the number of national and international patents they hold, contribution to applied research and development at high-tech companies, number of agreements with high-tech companies, share of income from research for industry in the university's budget, number of industry-tied departments, etc.
According to the ranking, TUSUR is also the fourth university in the country by share of income from research in its overall income (83%) and share of own research (without engagement of contractors) in its overall income (42.2%).
TUSUR University has also improved its position in the education subranking and secured its position in the internationalization subranknig, placing 19th. In the overall ranking, TUSUR placed 42nd, ahead of the Saint Petersburg Electrotechnical University, Saratov State University, Perm State National Research University and others.
National University Ranking has been published by Interfax since 2010. The large-scale study of the Russian university system evaluates institutions of higher education in six categories: education, research, socialization, internationalization, innovation and brand. The study is based on analysis of questionnaires submitted by universities, public data available at university websites, websites of the Ministry of Education and Science of the Russian Federation, and information from the analytical systems SPARK and SCAN.