December 20, 2018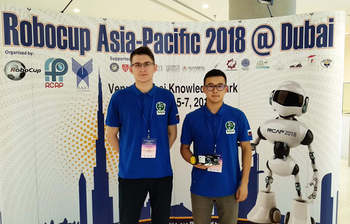 A team of Tomsk State University of Control Systems and Radioelectronics has become a champion in the CoSpace league at the Super Regional RoboСup Asia-Pacific, held simultaneously in Iran and the UAE.
The team /dev/null took the first place in the CoSpace league at the second Super Regional RoboCup Asia-Pacific, and shared the first place in the CoSpace superteam challenge with a team from China. The TUSUR team was the only Russian team competing in the league. Other teams competing represented South Korea, Iran, Singapore and China.
The CoSpace league was first added to the lost of RoboCup events in 2017. Participants are challenged to develop a multipurpose software application that would work both for a virtual and a physical robot. Testing and development are to be completed during the event: the software is then uploaded to the simulation space where, on a large screen, two competing robots must perform certain tasks. Then the software is installed to hardware wheeled robots that also compete against one another.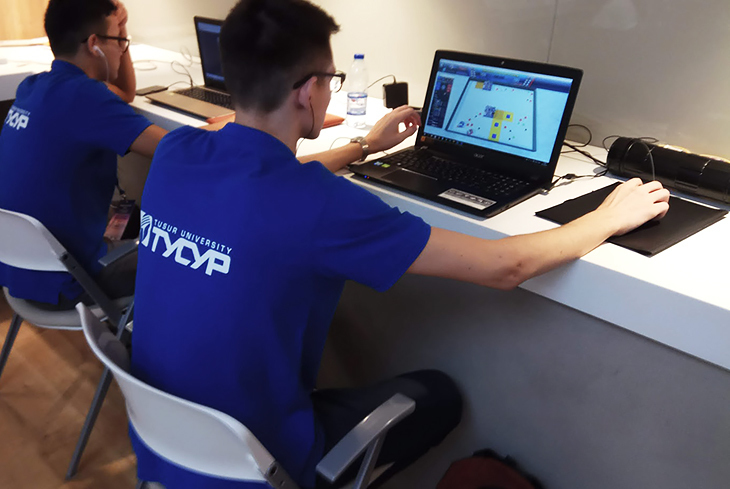 TUSUR students were among the first to compete in the CoSpace league, in 2017 winning silver in the Super Regional RoboСup Asia-Pacific. At the RoboCup Canada 2018, the team was among the leaders in the CoSpace exhibition matches.
Another TUSUR competing at the RoboCup Asia-Pacific was Hardwire Gen – these students have shown their mettle in the RoboCupJunior Soccer Open, finishing with the best individual result among Russian teams: four victories and 9th position overall. A total of 18 teams from Russia and Iran competed in the RoboCupJunior Soccer league.
At the RoboCup Asia-Pacific 2018, TUSUR led the Russian delegation of nine teams representing several Russian cities and one team representing Kazakhstan. The super-regional championship was co-hosted by Dubai (UAE) and Kish (Iran).