May 20, 2019
The fourth RoboCup Russia Open 2019 has wrapped up for the fourth time in Tomsk. The main national RoboCup event has welcomed 125 teams from Russia and Kazakhstan, 55 of them representing Tomsk region, and 14 representing TUSUR University.
After three competition days, Tomsk teams have won nine medals in various leagues.
The awards were presented by TUSUR Vice-Rector for Research and Innovation Viktor Rulevskiy, Deputy Head of Department of General Education of Tomsk region Elena Vtorina, Head of Robotics Center of Presidential Lyceum #239 (Saint Petersburg), member of the Russian National RoboCup committee Sergey Filippov.
Viktor Rulevskiy, TUSUR Vice-Rector
Both the RoboCup movement and TUSUR share a mission in that they aspire to engage young people in robotics and modern technologies that they will use, create and implement to change the world and our everyday life, making them better, more exciting and fun.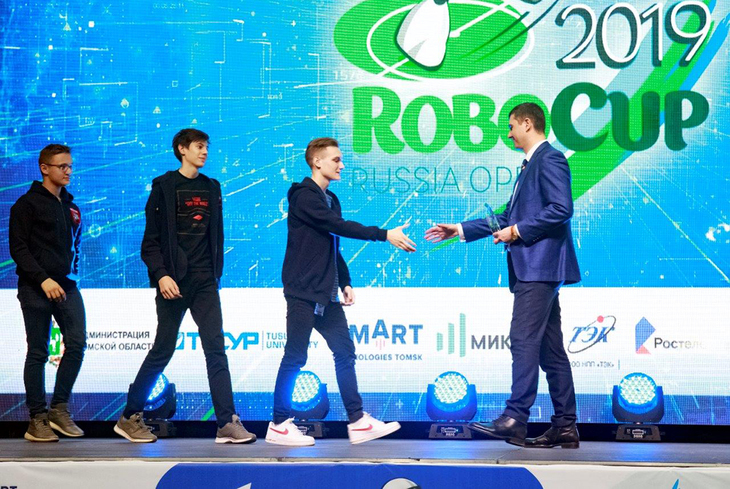 TUSUR teams dev/null, Victoria and Alpha have won all prizes in the RoboCup Junior (RCJ) Rescue Simulation league where they were challenged to create multi-purpose software for a hardware and virtual robot.
Tomsk teams have proven their mettle in other Rescue leagues as well: Clevers Team of the Tomsk Career Planning Center finished second in the RCJ Rescue Maze league, and the third place was taken by Mad Mechanics representing the Governor's Svetlyi Lyceum.
The third place in the открытой лиге RCJ Soccer Open team went to cpc.tomsk, another team representing the Tomsk Career Planning Center. TUSUR team Photon competed in the new RCJ Humanoid Soccer league, finishing second.
A representative of Tomsk Polytechnic University r-evolution finished second in the Major group of the Humanoid Kidsize Soccer event, Photon finished third.
Winners of the RoboCup Russia Open 2019 will compete in the World Final in Australia, European Championship in Germany, and in the Asia-Pacific Championship.
In addition to the usual awards, winners have received special prizes from the sponsors: Micran, VTB Group, and Polus, who also announced that their sponsored awards for the Most Promising Development and the Best Startup will be regular categories at the RoboCup Russia Open.
The RoboCup Russia Open was organized by TUSUR University, Administration of Tomsk Region, SMART Technologies Tomsk, with the support of the Russian National RoboCup Committee.
The three days of the event attracted an audience of over three thousand people.
RoboCup is a non-profit scientific and cultural project for promotion of AI, robotics, and other related fields of science and technology by means of competitive robotics events.
In 2019, the event was sponsored by Micran, Tomsk Electronic Company, Rostelecom, VTB Group, Geoscan, Polus.