April 27, 2015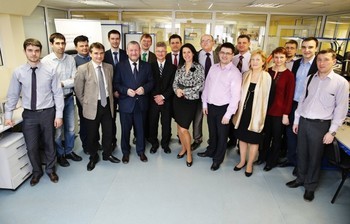 On April 23 TUSUR University and Keysight Teсhnologies opened a joint Research and Education Center TUSUR-Keysight which will employ the solutions offered by Keysight Technologies, a global US-based leader in electronic measurements. The Research and Education Center was opened in accordance with the Memorandum of Cooperation signed by our University and Keysight Technologies in November 2014.
The partners were represented at the opening ceremony by Rector of TUSUR University Alexander Shelupanov, Head of Directorate for Administration and Strategic Development Yuri Shurygin, EMEA Business Development Manager of Keysight Technologies Co. Kingdon Parsons, General Director of the Russian office of Keysight Technologies Co. Galina Smirnova.
The objective of the Center is to offer high-quality training and carry out joint research in radioelectronics and computer-aided design (CAD). The new center is the first research and education center of Keysight Teсhnologies in Siberia.
The new center will become part of the TUSUR infrastructure for transfer of high-tech engineering solutions, knowledge and technology. The courses of Keysight Teсhnologies that are being taught at some of leading global universities will become available to the graduate and postgraduate students of TUSUR, along with state-of-the-art equipment and cutting-edge high-tech solutions.
The Center will be developing educational programs in radioelectronics, telecommunications and microwave technology, offering training and skill improvement programs for industry along with Keysight Technologies certification courses, providing consulting services.
The Center includes two learning and research laboratories equipped with state-of-the-art hardware and software of Keysight Technologies: Laboratory of Automated Microwave Device Design and Laboratory of Microwave Measurements.
Classes at the Center started immediately after its opening. On April 23—24 the first group of students started training in "Basics of Oscillographic Measurements". On April 27—29 employees of radioengineering companies of the region will be invited for a three-day workshop "Design of Radioengineering Systems using SystemVue".
Background information
Keysight Technologies Inc. is the world's leading electronic measurement company, transforming today's measurement experience through innovations in wireless, modular, and software solutions.
Learn more about Keysight Technologies Inc.