September 20, 2019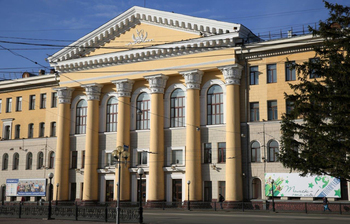 The Ministry of Science and Higher Education of Russia has confirmed the appointment of Victor Rulevskiy to the office of Rector of Tomsk State University of Control Systems and Radioelectronics, his tenure officially starting on September 17, 2019.
The new Rector was elected by the Staff Conference with 121 to 14 votes. The nomination of Victor Rulevskiy has been supported by Lyudmila Ogorodova, Deputy Governor of Tomsk Region for Research and Education, and Alexander Shelupanov, Rector of TUSUR University.
Victor Rulevskiy graduated cum laude from Tomsk Polytechnic University in 2003, completing a Master program in Electrical Engineering, Electromechanics and Electrical Technology. In 2003, he joined the team of TUSUR Research Institute of Automatics and Electromechanics becoming its Director in 2016. In June 2018 he was appointed Vice-Rector for Research of TUSUR University. Doctor Rulevskiy has authored over 50 publications: study guides and scientific works, including two monographs, 12 patents for invention and inventor's certificates. He is a recipient of a medal of the Tsiolkovsky Federation of Cosmonautics; a medal of merit awarded by the Governor of Tomsk region; awards of the Ministry, Administration of Tomskregion and TUSUR.
Former Rector of TUSUR University Alexander Shelupanov has officially taken office as University President, his tenure starting on September 17, 2019. His nomination was supported by the majority of votes at the Staff Conference.
Alexander Shelupanov joined the team of TUSUR University in 1993. In 1999, he became head of the Department of Complex Information Security of Computer Systems; during his tenure the department became of the country's most prominent research divisions with a focus on information security, serving as the foundation for the newly created TUSUR Institute of System Integration and Security.
In 2010–2014 he was appointed Vice-Rector for Research. In 2014, Professor Shelupanov was elected Rector of TUSUR University. In that capacity he kept the University on its course as an innovation-driven, entrepreneurial institution with impressive output in ground-breaking high-tech research carried out in collaboration with industry partners. During that time, the University's research funding showed a growth of about 20% per annum. In 2018, the University's income from research was over 1 billion rubles, 2 million rubles per faculty staff member, one of the highest in Russia.
Alexander Shelupanov is an Honored Worker of Higher Education, winner of Government Award for Achievements in Education (2009), two-times winner of Government Award for Achievements in Research and Engineering (2013, 2018), as well as a recipient of numerous awards and medals from FSTEC of Russia, FSB, Cosmonautics Federation, Ministry of Communications, Tomsk, and Tomsk Region.