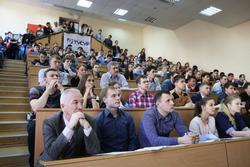 On 28-29 January 2016 Tomsk State University of Control Systems and Radio Electronics will hold the international research and methodology conference "Modern education: problems of correlation between educational and professional standards"
The purpose of the conference is to exchange experience and opinions on the role of technical universities in solving the problems of Russian economy modernization, advanced forms of scientific, technical and methodological support for innovative education, new developments and achievements in educational technologies, problems of humanization and humanitarization in modern higher technical education.
The conference invites researchers, professors, postgraduate students and master students of universities.
Program of the conference includes following issues:
Problems and training of specialists in modern conditions;
Correlation between educational and professional standards as a modern requirement;
Features of Master training;
E-learning in modern university;
Organization of mathematical training that meets the needs of professional education;
Social and humanitarian technologies in training of engineers;
Group project training as a tool for interconnection of educational and professional standards;
Library in modern educational process;
New management technologies and their application in economy, education and business;
Pressing issues of modern legal education.
Abstract submission will be available on the 23 of November 2015 by metod@tusur.ru
XI International Scientific Conference "Electronic devices and control systems"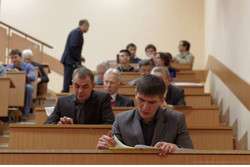 Dear Colleagues! We are pleased to invite you to take part in the XI International Scientific Conference "Electronic Devices and Control Systems" that will be held in Tomsk, Russia, from November 25 to November 27, 2015.
Every year this event provides its participants with an opportunity to network with experts from leading universities, organizations and companies engaged in high-tech business.
This year, along with its regular sessions, the Conference will host two Science Schools "Electronic Government: Business and Administration" and "65 Years to Radio Engineering Faculty. History and Development ".
Conference goals:
to provide platform to exchange information on advanced R&D deliverables in priority fields
to analyze the problems in modern radio electronics, the theory and practice of management.
to determine the most up-to-date directions of scientific research applied to the various industries.
to introduce to the market new developments in devices, engineering solutions, software and systems.
to integrate the efforts made by scientists and industry representatives in order to create a competitive knowledge-based products.
Important dates:
October 1st – Application registration and the submission deadline for final papers (according to the requirements).
October 2nd to October 16, 2015 – Notification of acceptance
October 19 to October 30, 2015 - Announcement of the final program, attendance announcements
After October 30, 2015 – Registration fee payment (upon the Organizing Committee's notification).
November 25 to November 27, 2015 - Sessions
December to February, 2016 – Mailing of the Conference Proceedings
Contact information:
For details on registration, abstract submission and other information, please contact:
Elena Yurchenkova, email: es@main.tusur.ru tel. +7 3822 701 524.
Nikolay Malyutin, email: ndm@main.tusur.ru.
Address: 40, prospect Lenina (room 205), Tomsk, Russia 634050
University Technology Dialogue
In a series of notable events of international level held by TUSUR, one of the most important is the annual conference of the University Technology Dialogue "Innovations in Information and Communication Science and Technology" conducted in cooperation with Ritsumeikan University (Japan). The circle of participant countries is constantly expanding. Today the list of participants include representatives of universities and large corporations from Japan, USA, Canada, Germany and other regions of the world.
The University Technology Dialogue offers interaction at the level of ideas and projects. The main point of the event lies in the fact that in the modern information space, full of ideas and concepts, young scientists need to ensure that their path of progress is not chaotic – from one accidental invention to another – but designed to develop those areas of research which have actual potential. The conference serves as a presentation platform for students and young scientists, making it possible for highly skilled experts – university professors, researchers, entrepreneurs – give their feedback and suggestions to the speakers, based on their own extensive experience.
The fact that the University Technology Dialogue is held entirely in English raises the status of the event and its attractiveness for foreign partners. Public lectures and presentations are held during the conference, drawing the attention of specialists, engineers and anyone interested in modern science and technological enterprise.
Traditionally, the exchange of experience in scientific community happens not only in the course of personal meetings, but also through publication in academic journals. In this context, TUSUR invests its efforts in two directions. First, it helps its employees bring their scientific publications into conformity with the international standards, and choose appropriate journals for publication with high impact factor. Second, it publishes its own English-language scientific journals, which can enter international analytical and citation databases, such as Web of Science and Scopus.
International Triple Helix Association Conference in Tomsk: cluster approach, high-tech enterprise cooperation, consortium formation – the current trends of innovation-driven development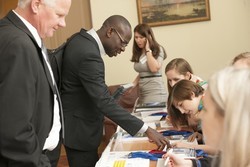 On Saturday, September 13, the XII International Triple Helix Conference closed in Tomsk. The Conference was held by Tomsk State University of Control Systems and Radioelectronics and National Research Tomsk State University.
A total of over 300 participants joined the work of the Conference, among them representatives of business and government from 30 countries, scholars from 60 international universities.
The central theme of the Conference was "The Triple Helix and innovation-based economic growth: new frontiers and solutions", discussed from many perspectives during its workshops and discussion sessions.
At the first plenary session the participants were welcomed by the keynote addresses from the author of the Triple Helix concept, Stanford University professor Henry Etzkowitz, Ambassador of the Triple Helix Association to Russia, initiator of the THA Conference in Tomsk, TUSUR vice rector for innovative development and international affairs Alexander Uvarov, TSU rector Eduard Galazhinsky.
On behalf of the regional government, the audience was welcomed by the Chair of the Legislative Duma of Tomsk region Oxana Kozlovskaya. She noted that the model of interaction among universities, business and government has been active in Tomsk for several years. One of the successful examples of innovation-driven development mentioned by Oxana Kozlovskaya was the consortium formed by the universities of Tomsk united by a common goal of scientific and academic cooperation.
The need for unification through consortiums was also the focus of the speech given by the deputy Minister for Education and Science of Russia Lyudmila Ogorodova who talked about the state policy on science.
"Cooperation among government, business and science is a very important matter today", she said. "For us it boils down to developing the state polity tools, determining what mechanisms have to be developed in Russia to improve the efficiency of the competitive environment".
The mechanisms and challenges of innovation-driven developments were also the theme covered by Alexander Uvarov who has been a partner of the Triple Helix Association for many years (in 2010 he headed the editorial team of the Russian edition of Henry Etzkowtz' book "The Triple Helix: University-Industry-Government Innovation in Action") and is the head of the research team at TUSUR University studying the impact of the Triple Helix model on the economy of our region.
"We must coordinate the goals of innovation-driven development with decision levels," he said. "The biggest global challenge for us is globalization and loss of Russia's positions in the international innovation market. In this sense, our goal is to grow under the ever-growing competitive pressure. At the national level, the biggest challenge for Russia is diversification of its economy in order to shift from its reliance on natural resources, which in its turn calls for development of the priority technology platforms. "
Many important matters of cooperation among university, business and government were raised and discussed at the XII International Triple Helix Conference, speakers have talked about the different approaches to such cooperation, the experience of different regions and the approaches and standpoints of the actors of the Triple Helix model.
The best reports of the Conference will be recommended for publication in the Triple Helix Magazine ran by Springer – one of the largest international publications.
Third International Seminar «Photonics of Nano-and Microstructures – 2015» (PhNMS-2015)
Dear colleagues! It is a great pleasure to invite you to the Third International School-Seminar 'Photonics of Nano-and Microstructures – 2015' (PhNMS-2015). The meeting is organized by Tomsk State University of Control Systems and Radioelectronics (TUSUR) and the Institute of Automation and Control Processes (Far Eastern Branch of RAS), Vladivostok (IАCP FEB RAS). The PhNMS-2015 will take place from 7 to 11 September, 2015 at Tomsk State University of Control Systems and Radioelectronics (TUSUR). Within the framework of Seminar some leading Russian and foreign scientists will deliver lectures on key scientific and research directions in the area of making and practical use of micro-and nanostructural materials and systems.
Organizers
Tomsk State University of Control Systems and Radioelectronics (TUSUR)
Institute of Automation and Control Processes (Far Eastern Branch of RAS), Vladivostok (IАCP FEB RAS)
Technical areas
Photon crystals and structures
Nonlinear optical materials
Nanoheterostructure и nanocomposites
Semiconducting nano-and microstructures
Nanometrology and measuring systems
Photon and quantum systems and devices
Nano-and biophotonics
Seminar format
The program of lectures will be formed on invitation of Program Committee. Papers to be presented at seminars and poster sessions will be selected by Program Committee on the basis of accepted abstracts. Preferences will be given to young researchers, postgraduates and senior students.
Official languages of the Seminar are Russian and English.